Lady Hornets down Piggott to make Pre-Holiday finals
Thursday, December 12, 2013
Harrisburg came out ready to play and jumped out a 28-7 first quarter lead and never looked back as they went on to post a 69-27 win over Piggott in the semi-finals of the Pre-Holiday tournament being held at Bay. The Lady Hornets will play Brookland in the finals on December 14.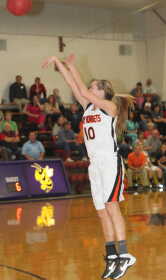 Harrisburg opened with a 7-0 run as Lexi Smith canned a three-pointer, Peyton Craft stole the inbound pass and scored on a lay-up and Kaci Mack hit a jumper for two of her 11 points in the opening period. Piggott got on the board with 6:11 to go before the Lady Hornets scored the next five to go up 12-2. Keely Edwards got a steal for an easy lay-up before Craft hit three of four free throws after being fouled twice. Piggott got a basket as Makaleigh Riddle with a basket inside before Mack and Edwards hit back to back three-pointers to make it 20-4 with 2:58 left. Piggott got another basket before Mack hit back to back three-balls to push the lead to 26-6 with 1:26 left. Jasmine hit two free throws for Harrisburg and Piggott got a free throw to fall in the final minute of the period to make it 28-7 Lady Hornets after one.
The second period opened with each team nailing a three as Riddle hit for Harrisburg from the right wing making it 31-10 with 5:15 left to play. The teams traded baskets over the next two minutes to make the score 35-17 Harrisburg. Abby Wallace and Edwards got back to back inside baskets to make it 41-18 at the half.
The third period was all Harrisburg as they outscored Piggott 16-4 in the period. Mack hit back to back shots early in the period and Hunter Lewis hit back to back shots, one being a three, toward the end of the period. Edwards and Craft both scored buckets in between with Craft hitting two free throws also. Craft closed out the period with a basket to make it 57-22 after three periods of play.
The final period was much the same as the first three with the Lady Hornets staying hot and outscoring the Lady Mohawks 12-5. The mercy rule was in effect the final period. Craft and Smith scored on back to back shots. Piggott scored inside before Harrisburg got back to back buckets from Riddle and Edwards to make it 65-24. Piggott got a three-pointer with 1:15 left as Edwards and Smith scored the last two buckets of the game for Harrisburg.
Mack led the Lady Hornets with 15 points as Edwards scored 14 points and Craft finished with 13 points for Harrisburg.