Helen Ruth Smith
Wednesday, December 18, 2013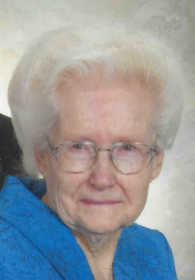 TRUMANN - Mrs. Ruth Helen Smith, 93, of Trumann died Dec. 9, 2013 at Legacy Fort Smith Health and Rehabilitation Center in Fort Smith. Mrs. Smith was born in Lake City and had lived most of her lifetime in Trumann. She was a housewife and a member of First Pentecostal Church in Trumann. Mrs. Smith was preceded in death by her husband, Elvie Garland Smith; one son, Charles Lee Smith; one daughter, Marsha Kay Smith; 2 grandchildren; 2 brothers; and her parents, Clint and Selma Charlene Wright McGough. She is survived by two daughters, Melva (Alfred) Moody Fort Smith and Regina (Charles) Brewer of Trumann; two sons, Wayne (Pat) Smith of Trumann and Michael (Lois) Smith of Yukon, OK.; one sister, Virginia Scheer of Sacramento, Ca; eight grandchildren; 14 great-grandchildren; and three great-great-grandchildren. Funeral services were Dec. 12 in the chapel of Thompson Funeral Home in Trumann with Bro. Murray Ray, Bro. Tim Sullivan and Bro. Ron Patrick officiating. Burial followed in Pine Hill Cemetery in Jonesboro.
Pallbearers were Brent Smith, Martin Smith, Michael DeWayne Smith, Kent Moody, Marcus Moody and Brandon Smith.
An online register book can be signed at www.thompsonfuneralhome.net.