Ice Storm Less Than Forcast
Wednesday, December 18, 2013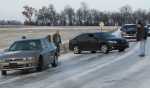 The 2013 ice storm proved to be less destructive than forecast. Early weather forecasts projected a great deal of freezing rain, which typically leads to accumulation on trees and lines, resulting in power outages. Damage to electric facilities was expected to be extensive. Fortunately, there was more sleet and less freezing rain than expected in Eastern Arkansas. Freezing rain began falling late Thursday afternoon. Ice began accumulating on trees and power lines by Friday morning. Roads began to be iced covered resulting in numerous accidents being reported. Most of the accidents involved "slide offs" as drivers lost control of their vehicles and slid into medians and ditches. Main highways such as U.S, 63 were passable by Sunday although most side roads were still iced covered Wednesday. Store shelves were quickly emptied at grocery stores. Milk, bread, candles and bottled water were the quickest sellers according to one store manager. By Friday afternoon people were stocking up for the long haul.
Poinsett County schools were not in session Friday. There was no school Monday, Tuesday or Wednesday.
Justin Etter, Communications Coordinator with Craighead Electric said there were 465 power outages at the peak of the storm. Most of these were in Marked Tree and Trumann. All power was restored by Sunday morning. The majority of the outages were caused by ice on the lines resulting in "galloping."
Galloping can occur when freezing rain collects on power lines and other objects. Then icicles and odd-shaped ice can form. When wind pushes on those icicles and conductors, this causes uplift on the iced-up conductor and a consequent galloping or jumping motion occurs. Power lines can sway in high winds, but the combination of wind and ice causes them to gallop more forcefully.
Entergy prepared for the storm by mobilizing 6,700 workers from other utility companies and contractors. Those still en route Friday afternoon were released to be of service to other utility companies that did suffer extensive damage.
"We always say we prepare for the worst, but hope for the best. We were prepared for the massive restoration effort," said Entergy Arkansas Inc. President and Chief Executive Officer Hugh McDonald. "Fortunately, the scenario played out to be relatively mild. We are thankful for all those who responded to the call to prepare for a heroic restoration effort, and we are pleased that most of those resources can now be re-routed to where they are desperately needed."
Entergy reported just over 300 people remained without power early Sunday morning. Entergy spokesperson David Burnette said cooperative linemen dedicated the majority of their weekend working to restore power.
The Arkansas Highway and Transportation Department had road crews out spreading and dozing off as much of the ice as possible.
Most of the motor vehicle crashes involved simple single-vehicle "slide offs" as drivers lost control and slid into highway ditches or medians.
Captain David Layman of the Lepanto Police Department said Lepanto officers spent five to six hours directing traffic on 14/140 going from Lepanto to Osceola. Due to the icy conditions the area was turned into a three-way stop in order to keep traffic moving.
Information Coordinator Adriane Barnes with the Arkansas Forestry Commission reported the Arkansas Commission crews were put on alert due to the weather predictions prior to the ice storm. When the need arose crews were able to provide chainsaw and dozer support (at the request of county officials) to get Arkansans back on the roads safely.
Poinsett County Citizens are getting back to normal thankful this storm was not a repeat of 2009.