Marked Tree Rotary Club makes donation to Komen Foundation in Bankston's honor
Wednesday, December 18, 2013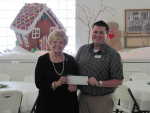 The Marked Tree Rotary Club presented the Susan G. Komen Foundation for Breast Cancer Research with a check for $1667.62 Dec. 4. The club raised the funds during its annual Peggy Bankston Walk for the Cure held in September in honor of a former member who died from breast cancer in 2005.
Komen foundation representative Jane McDaniel was on hand to accept their donation. She also spoke to the club about the foundation and the steps it is taking to help find a cure and prevent breast cancer.
"Your money is well spent," McDaniel told the club. "25% of every dollar goes directly to the foundation for research."
In addition to raising funds for cancer research, McDaniel said the foundation strives to educate women about breast cancer. They also promote early detection.
"We focus on education, support groups and serving the underserved. The survival rate for breast cancer is almost 100% when detected early" she said.
The Komen Foundation supports programs that allow uninsured or under insured women between the ages of 40 and 64 to have a mammogram each year. The programs also pay for diagnostic work and treatment if necessary. For further information on these programs contact the Komen Foundation. While the targeted age is women over 40 McDaniel said it is very important that younger women also be aware of the risk they face and do routine self checks. "We tell women they need to remember three important things," McDaniel said. "First, there's the monthly self check. Then they need an exam by a doctor yearly and a mammogram yearly. These are all important."
McDaniel, who is a breast cancer survivor of 27 years herself, said she was proud of how far breast cancer education has come since she was diagnosed.
Genetic testing is another type of precautionary method women with a family history of breast cancer can take. Genetic testing gives people the chance to learn if their family history of breast cancer is due to an inherited gene mutation. Five to 10 percent of breast cancers in the U.S. are linked to an inherited genetic mutation.
Marked Tree Rotary Club's President Zachary Hatley said the club hopes to double the volume of participants in the annual Bankston walk the upcoming year.
"We want to give personal thanks to everyone who supported the cause and our club," Hatley said.