Lepanto voters approve sales tax
Wednesday, December 18, 2013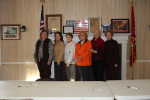 Voters approved a half-cent sales tax Tuesday to fund replacement of about 13,000 feet of galvanized water lines that were installed in the 1920's. Lepanto voters passed the sales tax with 84 voters in favor or the tax and 53 voters opposed to the tax increase.
Mayor Steve Jernigan said he's ready to "get to work" and expects the actual physical process of the lines being replaced will begin in the spring of 2014.
Several citizens of Lepanto attended a city council meeting and called on the council to take action on the water situation. In an attempt to achieve a consensus within the town, a public meeting was held at the courtroom of the Lepanto City Hall. Jernigan said about 70 residents were in attendance of the public meeting.
"We've had this problem for some time now, and we wanted to see what the publics' thoughts were on how to pay for it," Jernigan said.
At the end of the meeting, the majority of the residents present were in favor of putting the half-cent tax raise on the ballot. If passed, the money would go toward a million dollar loan for the water line replacement. The City of Lepanto was approved for a $1,030,000.00 loan to replace 13,000 feet of galvanized water lines that were installed in the 1920's. Once the loan is paid off, the sales tax increase will automatically end. The sales tax increase would raise taxes to ten cents for the time being. The meeting resulted with Lepanto City Council voting to put a half-cent sales tax raise on a ballot for residents to vote on, due to their recent water line issues.
Arkansas Natural Resources and USDA's Rural Development turned down Lepanto's recent request for a partial grant to cover some of the costs. The city did not meet requirements due to Lepanto's present water rates being considerably lower than the state's average.
Following the public meeting City Council passed an ordinance allowing the voters to approve half-cent sales tax increase to pay back the loan. The election took place Tuesday, Dec. 10.
"We have many request to pave streets and there is a $16 million street aid fund to help cities, but until we replace these old lines it would be foolish to repave a street and then dig it up again," said Jernigan.