Local author visits creative writing class
Wednesday, December 18, 2013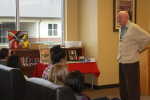 After spending a semester studying different works, Trumann High School's creative writing class had the opportunity to meet a published author and draw inspiration from him last week. Harold Williams, a local author known as H.R. Williams, visited the class on Wednesday, Dec. 4. Williams shared his own inspirational journey as an author, as well as, the process of getting their works published.
Williams writing began when he was 64 after working in marketing and retail all his professional life. He was also a paratrooper in the 101st Airborne Division. He had always had an urge to write, but there was never enough time. As he grew older, the urge grew stronger.
"I always knew deep down I could write, and in the end, I began writing because I had to," Williams said.
All of his stories take place in eastern Arkansas along Crowley's Ridge, a place Williams knows well after growing up and living around the area.
"Write about what you truly know," Williams told students. "To take it a step further, write about what you truly believe, truly feel, and truly know."
Williams has published several short stories and essays in magazines with several winning awards. He has published two novels, The Whiskey Killing and Harris: The Return of the Gunfighter, and a book of short stories, Crowley's Ridge: Collected Stories of H.R. Williams.
In a question and answer session after his presentation, Williams revealed he is currently working on a sequel to The Whiskey Killing entitled The Casino Killing.
Williams told students the key to getting published is persistence. He sent The Whiskey Killing to publishers 15 to 20 times before one of them showed interest in his novel.
Martha Key, instructor of the creative writing class, said she had asked Williams to speak to the class because of a program the class is following in which November was a month of studying novels.
"I've seen [the class] grow so much and become more confident. Every week, I see some new strength," Key said.
The students share their own writings with each other every Thursday. Key said this has developed strong bonds and relationships in the classroom, where they feel free to express themselves through writing.
Key is optimistic about what will come from the student's after receiving inspiration from a local published author. She hopes to see even more growth in the students in the months to come.