Trumann gets past Warriors in Pre-Holiday Tournament
Friday, December 20, 2013
Trumann (2-1) used a 9-0 run in the fourth period to take control of the game as the Wildcats posted a 69-64 win over Ridgefield Christian School (RCS) in the opening round of the Pre-Holiday tournament being held at Westside. The win advances the Wildcats into the semi-finals against Brookland.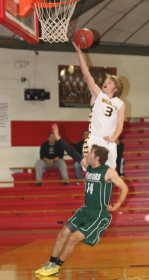 RCS got on the board first hitting one of two free throws before Trumann went on a 10-0 run to take a 10-1 lead. Westen Gilliam hit a pair of free throws followed by a basket inside to make it 4-1. Grayson Dye scored the next six points for Trumann. Dye canned a three from the left corner before hitting one of two free throws. Dye grabbed the rebound off his missed free throw and put it back in to make it 10-1 with 3:35 left in the opening period. The Warriors got back to back three-pointers to cut the lead to 10-7. A.J. Winningham answered with a three-ball to make it 13-7 Trumann. The teams traded buckets to make it 15-9 Trumann after the first period.
The team traded points before Tre Simmons canned a three and Gilliam hit one of two free shots to put the Wildcats up 23-13 with 6:09 left. RCS cut the lead to five, 23-18, only to see Taylor Wilson net a three-pointer to push the lead back to 26-21. Trumann was up 28-21 with just over three minutes before half as the Warriors went on a 10-0 to tie the game up 28-28 half time.
The third period saw the offenses heat up as RCS outscored Trumann 21-19. The teams combined to hit seven three pointers in the period. Winningham hit three three pointers in the period with hit final three putting Trumann up 42-36 with 4:44 left. The Warriors cut the lead to 42-40 with back to back scores. The game stayed closed the remainder of the quarter. Simmons' basket for the Wildcats with 28 seconds left made the score 49-47 RCS after three periods of play.
The Warriors stretched their lead to 52-47 with a conventional three pointer with 7:22 left. Winningham hit back to back threes around a RCS basket to make it 54-53 Warriors. Simmons nailed a three pointer to tie the game at 56 with 5:15 left. Dye and Willie Moore each scored a basket to make the score 60-56 Wildcats. The game stayed pretty tight the rest of the game. Dye hit four free throws in the last 15 seconds of the game giving Trumann a 69-64 win.
Simmons led Trumann with 21 points on the night. Winningham netted 20 points as he hit five threes and Dye finished with 14 for the Wildcats.