Hornets tumble in Pre-Holiday Tournament at Westside
Friday, December 20, 2013
Harrisburg (3-6) fell behind early and could never catch up as they fell to Piggott 67-42 in a consolation game of the Pre-Holiday tournament being held at Westside.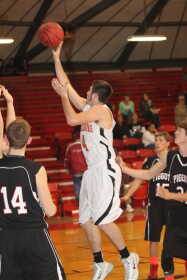 The Mohawks jumped out to a 9-2 lead with 5:14 left as Drew Price scored the only points for the Hornets. Alec Witt cut the lead to 9-5 with a three and then scored inside to make it 12-7 Piggott with 4:07 left. The Mohawks scored the next six points to go up 18-7. Brayden Honeycutt drained a three with 25 seconds left in the opening period to make it 18-10. Piggott added another score to make it 20-10 after one.
Witt answered Piggott's three with a three-pointer from the top of key with 6:15 left in the period to make the score 23-13 Mohawks. The teams were back and forth scoring for the next few minutes. Walker Gardner hit two free throws making it 28-18 with 3:14 left. Jake Chatman grabbed an offensive rebound and scored to make the score 31-20 and Witt did the same just a few seconds later to make it 31-22 Piggott. Nathan Neal got a free throw to fall with four seconds left before Piggott hit a shot at the buzzer to make 36-23 Piggott at the half.
The Hornets cut the lead to 10 to open the third period as Alex Nicholson hit one of two free throws after being fouled and then scored inside to make it 36-26 with 6:33 left. Piggott scored the next five points before Nicholson again scored on the inside making it 41-28 Mohawks. Gardner got back to back inside buckets for the Hornets to make it 48-32 with 3:03 left. Piggott closed the period with 10-0 run to go up 58-32 after three.
Piggott opened the fourth period with five points invoking the mercy rule with 6:52 left in the game. Harrisburg got two free throws from Adam Brittain a lay up from Connor Haag to make it 63-36 with 5:14 left to play. Piggott got a score before the Hornets got a free throw from Haag and an inside bucket from Brad Schwarz to make it 65-39 with 2:36 left. Haag canned a three with 44 seconds left and the Mohawks got a basket with eight seconds left to set the final score at 67-42 Piggott.
Alec Witt led the Hornet with 10 points.