Trumann falls to Brookland in battle of the 'Cats
Friday, December 20, 2013
The Wildcats of Trumann (2-2) and Bearcats of Brookland combined for 13 three-pointers in their semi-final match-up of the Pre-Holiday tournament being held at Westside. Brookland canned nine of those three-pointers on their way to a 69-41 win.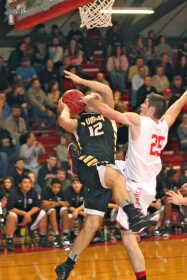 The Bearcats jumped out to a 10-2 lead with Tre Simmons accounting for the Wildcats only bucket. A.J. Winningham hit a three-ball from the right corner to cut lead in half at 10-5 with 1:52 left. Brookland got back to back buckets before Winningham hit a base line jumper with eight seconds left making it 14-7. The Bearcats got a three-pointer with two seconds left to make it 17-7 Brookland after one period of play.
The Bearcats opened the second with an 18-5 run knocking down four three-pointers to take a commanding 35-12 lead with 3:20 left before half. Trumann got a basket from Winningham and a basket and free throw from Dye. Simmons' two free throws and jumper along with Dye's three-pointer were all the point Trumann scored the remainder of the period. Brookland scored seven points also the last half the period to take a 42-19 lead at the break.
The Bearcats kept the hot hand in the third period outscoring the Wildcats 14-9. Simmons got a break away one-handed slam dunk to open the second half. Simmons hit a jumper in the lane after a Bearcat three-pointer to make it 45-23 with 5:57 left. The Bearcats got two baskets before Taylor Wilson made two free throws to make it 49-25. Winningham's three with 18 seconds left made the score 56-28 heading into the final period.
The teams traded points the first couple minutes of the fourth period with Simmons hitting a jumper and Winningham making a couple of free throws. Dye canned a three and Westen Gilliam hit two free throws to make it 61-36 before Brookland hit back to back three-pointers to put the score at 67-36 and invoke the mercy rule with 4:06 left. Gilliam hit one of two free throws and Jacob Mincy converted a conventional three-pointer around a Brookalnd basket to set the final score at 69-41 Bearcats.
Winningham and Simmons scored 12 points each to lead Trumann.