Bay girls fall in NEA Tourney
Friday, December 27, 2013
Bay's Lady Yellowjackets, the seventh-seed, got off to a slow start against the #10 seed Augusta Lady Red Devils and fell 52-44 in the girls' Division I bracket.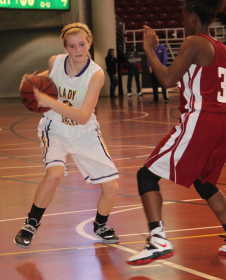 Emily Rush and Sydney Higgins scored back to back to give Bay a 4-0 lead with 4:20 left in the opening period. Augusta scored the next eight to go up 8-4. Katie Ferguson nailed a three-pointer to make it 8-7 Lady Red Devils with 1:58 left. Augusta scored the final seven to go up 15-7 after the first period.
Both offenses played better the second half with Augusta outscoring Bay 20-12 in the period. Rush hit one three free throws to open the period to make it 15-8. Ferguson made the score 19-10 with two free throws before making two more cut the lead to seven at 19-12 with 5:20 left. Rush hit one of two free throws and Higgins scored inside again to make it 23-15 Lady Red Devils. Ferguson's three with 3:07 before half made it a 26-18 game in favor of Augusta. Ferguson hit one of two free throws with 1:35 left for the only points for Bay during a 9-1 run by Augusta to make the score 35-19 at the half.
Rush opened the second half with an inside bucket for Bay as Augusta scored back to back to make it 39-21. Bay scored the next nine points to cut the lead to 39-20. Nicole Goldman and Brittany Roedel hit back to back three-pointers before Rush got inside for another score. Serena Brown hit one of two free throws to finish the run for Bay. The teams swapped basket with Brown scoring for Bay before each team was hit with a technical foul. Bay's coach was whistled before a player from Augusta got the other, at different times. Roedel hit the two free throws for Bay to make it 43-34 Augusta. Goldman cut the lead to six with another three-ball before Augusta scored to make it 45-37 going to the fourth period.
Bay came out hot and cut the lead to 49-44 with 2:46 left. Rush hit one of two followed by a running jumper in the lane before she canned two free throw followed by two from Ferguson. Augusta hit three of six free shots over the last minute to seal the 52-44 win.
Rush and Ferguson both scored 13 points on the night to lead Bay.