Lady Warriors downed in NEA Invitational opener
Friday, December 27, 2013
EPC's Synteria Ward had a big night with 24 points and 11 rebounds but it wasn't enough as the #9 Lady Warriors fell 67-53 to #8 Maynard this past Saturday in the girls' Division I NEA Invitational Tournament being held at the Convocation Center in Jonesboro.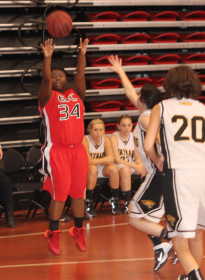 Maynard jumped out to a 9-0 lead in the first three minutes of the game before Ward hit a jumper to make 9-2 with 5:05 left. Stacey Mott hit two free throws making it 11-4 before Ward hit another jumper to make it 13-6 with 3:45 remaining in the opening period. The teams traded three-pointers before Ward hit one of two free throws putting the score at 19-10 Maynard. The Lady Tigers closed the period on a 6-2 run with Christian Hinson scoring for the Lady Warriors to set the first period score at 25-12.
Maynard outscored EPC 12-7 in the second period to take a 37-19 lead. Hinson got a basket inside after Maynard opened with back to back scores making it 29-14 with 6:14 left. Melissa Baldwin drilled a three-pointer and Alyson Phillips scored inside to cut the lea to 31-19 with 3:26 left. Maynard's 6-0 run made the score 37-19 at the half.
Hinson scored inside for EPC to open the third period before Maynard ran off 10 straight points to push their lead to 47-21. Ward outscored Maynard 7-5 over the last four minutes of the quarter with a three ball and two jumpers to make it 52-28 after three.
The final period was the Lady Warriors offense get hot but it was a little to late. An eight two run highlighted by back to back three-pointers from Ward and Baldwin made 54-38 with 6:28 left. Hinson, Ward and Phillips hit consecutive baskets after two Maynard scores to make the score 58-44 Lady Tigers. Ward and Phillips combined to score the last nine points for EPC with Phillips hitting two three-pointers as Maynard posted the 67-53 win.
Phillips added 10 points for EPC.