Big second half carries Lady Hornets to win
Friday, December 27, 2013
Fifth-seed Harrisburg needed a big second half to get by #12 Hoxie in the girls' Division II NEA Invitational Tournament this past Saturday at the Convocation Center.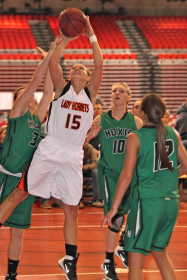 The opening period saw a total of 14 points scored as both teams struggled to get their offenses going. Peyton Craft scored the first five points for the Lady Hornets as they led 5-2 with 2:38 left in the period. A Hunter Lewis three-ball surrounded by two Lady Mustangs scores made it 8-6 as the period ended.
The teams traded points with Craft scoring four points and Kaci Mack two before Hoxie got a free throw and an inside bucket to make it 14-13 with just over five minutes until half. Harrisburg pushed the lead to six with Lexi Smith hitting two free throws and Mack converting a conventional three-point play making it 19-13 with 3:15 left. Hoxie tied the game with the next six points to make it 19-19. Makaleigh Riddle made two free throws and Abby Wallace scored inside before Hoxie got a three right before the buzzer to make it 23-22 Lady Hornets at the half.
Harrisburg increased their lead to 32-22 with a 9-0 run to open the third period. Craft got a steal and went in for a layup to open the second half. Craft scored inside, Keely Edwards got an old-fashioned three-point play and Craft got inside for another score. Hoxie got two free throws to stop the run and make it 32-24 Harrisburg. Riddle canned a three-pointer from the right wing before Hoxie scored the next four points making it 35-28 with 2:51 left. Riddle and Craft each hit two free throws and Edwards got inside for a score as Harrisburg took a 41-28 lead into the fourth period.
The team traded scored to open the final frame before the Lady Hornets scored six straight with Craft scoring inside and Edwards making back to back baskets to increase the Harrisburg lead to 51-33. The Lady Mustangs got back to back scores followed by back to back scores from Edwards and Craft to make it 55-38 with 3:46 to play. Hoxie got a free throw to fall before Harrisburg scored the last seven points of the period to make the final score 62-40. Meghan Scott got an offensive rebound and scored, Craft hit a free throw before scoring inside and Edwards closed the period with a bucket inside.
Craft and Edwards both netted double digit points for Harrisburg with 24 and 15 points respectively. Riddle finished with 13 rebounds and Craft had 12 rebounds for the Lady Hornets.