Lady Hornets torched by Valley View
Friday, January 3, 2014
Harrisburg had no answer for Valley View's Ashleigh Guthrie. Guthrie poured in 32 points as the fourth-seeded Lady Blazers beat the fifth-seeded Lady Hornets 78-50 in the second round of the NEA Invitational Tournament in Jonesboro.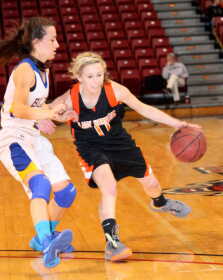 Harrisburg jumped out to a 7-2 lead as Peyton Carter hit two free throws, Kaci Mack canned a three-pointer and Keely Edwards went the length of the floor for a lay up with 5:35 left. Another Mack three-ball and lay up by Edwards made it 12-5 Lady Hornets. Valley View scored the next six points to make it 12-11. Harrisburg answered with back to back scores to push the lead back to 16-11. Harrisburg could only muster one point over the last two minutes as Valley View tossed in seven to take the lead at 19-17 after one.
Mack's three-pointer along with Makaleigh Riddle's three-ball around a three-point play from Valley View left the game tied at 22 with 5:14 left. The Lady Blazers scored the next six points to go up 28-22. Mack grabbed her own rebound and scored to make the score 28-25 Valley View with 3:04 left. Craft got inside for a score before Valley View scored five straight points to end the half giving the Lady Blazers a 36-27 halftime lead.
Guthrie scored nine straight for the Lady Blazers to start the third quarter and put Valley View up 45-27. Riddle hit one of two free throws before hitting a base line jumper to make it 47-30 Valley View with 3:47 left. Mack's jumper at 1:59 made it 50-32 before Valley View scored seven points in a row to go up 57-32 after three quarters of play.
Craft hit four consecutive free throws and Mack hit a three-point bomb from the top of the key to cut the lead to 61-39 Lady Blazers. Riddle's three-pointer followed by Edward's free throw and base line jumper for Harrisburg made it 66-45. Valley View reeled off nine points to push their lead to 75-45 with 2:20 left and invoke the mercy rule. Lexi Smith hit a jumper for Harrisburg and Gabbie Smith added a three-ball from the right wing to set the final score at 78-50 Valley View.
Mack led the Lady Hornets with 16 points on the night while Craft finished with 11 points.