Wildcats ousted in opening round
Friday, January 3, 2014
Tenth-seeded Trumann made a valiant comeback against seventh-seeded Rivercrest in their opening round game of the boys' Division II NEA Invitational Tournament being held at the Convocation Center in Jonesboro. Down 16 at the half, the Wildcats cut the lead to eight after three and Dalton Carter's three-point attempt to tie the game at the buzzer bounced off the rim giving the Colts a 77-74 win.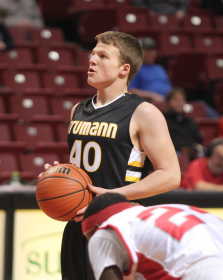 The Colts opened the game with a 15-4 run with Trumann getting two free throws from A.J. Winningham and a bucket from Grayson Dye. Winningham scored a bucket with 3:52 left to make it 15-6 only to see the Colts score the next nine points to go up 24-6. Winningham scored again and Taylor Wilson converted a conventional three-point play to make the score 24-11 Rivercrest with 1:45 left. Tre Simmons and Winningham each made two free throws in the last half minute of the quarter to make it 27-15 Rivercrest.
Trumann cut the lead to 32-25 with 5:52 left in second quarter. Simmons scored six points to help the Wildcats cut the lead. The Colts responded with a 8-0 run to push the lead back to 40-25. The teams went back and forth the rest of the quarter with Rivercrest holding a 51-35 lead at the break.
Trumann opened the third quarter with a 9-1 run to cut the Colts lead to 52-44. Winningham and Jacob Mincy got back to back buckets inside to start the second half. Simmons added a score and Winningham canned a three from the left wing. Rivercrest got a lay up and a three-ball to push the lead back to 57-44. Trumann ended the quarter like they began it with a 9-4 run to make it 61-53 after three quarters. Simmons scored two buckets with Winningham hitting a jumper and a three-pointer during the run.
Mincy opened the fourth with a bucket down low followed by a three-pointer from Dye. Simmons made two free throws after being fouled to make it 61-60 Rivercrest with 6:32 left. An 8-2 Colt run pushed their lead back to seven at 69-62. Back to back scores from Dye and Winnigham made it 69-66. Winningham canned another three and Simmons made one of two free throws to make the score 71-70 with 2:42 to play. Rivercrest hit six free throws down the stretch as Trumann got a three from Winningham and a free throw from Simmons to make it 77-74. Carter got the ball with about two seconds left, squared up and shot. The ball bounced off the front of the rim as the horn sounded ending the game.
Winningham led the Wildcats with 34 points on the night. Simmons finished with 13 points for the Wildcats.