Yellowjackets need overtime to get past Augusta
Friday, January 3, 2014
Second-seeded Bay needed an extra quarter to get past seventh-seeded Augusta 69-64 in the second round of the NEA Invitational Tournament.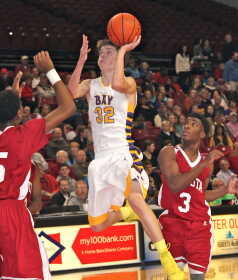 Tyler Pritchett scored the first six points for Bay to give the Yellowjackets an early 6-5 lead. Dustin Utley's basket off an offensive rebound and Pritchett's three-pointer from the left wing made it 11-8 Bay. Bay got a free throw a piece from Taylor Layne and Utley as Augusta scored 11 points over the last three and half minutes to take a 19-13 lead after one.
Kylor Skaggs scored inside for Bay to open the second quarter making it 19-15 Red Devils. Utley and Skaggs hit back to back shots to make it 22-19 Augusta with 4:20 left. Augusta went on a quick 5-1 run to take the lead at 27-20 before Cade Prince got inside for a score to make it 27-22 Augusta. Utley and Prictchett ended the quarter with back to back scores to send Bay to the half trailing Augusta 29-26.
Bay opened the third quarter with an 8-2 run to go up 34-31 with 4:58 left. Pritchett hit a three between two Augusta baskets to make it 37-35 Bay before the Yellowjackets run off seven straight points to make the score 44-35 Yellowjackets. Pritchett's lay up between two Augusta baskets set the score at 46-40 Bay after three.
Augusta cut the lead to one at 46-45 before Prince scored a bucket and Skaggs one of two free throws to push the Bay lead back to 49-45. The Red Devils reeled off the next eight points to go up 53-49 with 4:32 left. Pritchett scored inside and then scored on a lay up make it 55-53 Augusta. The teams traded free throws over the next minute to make it 57-55 Red Devils. Pritchett scored to tie the game at 57 with 40 seconds left to send the game to an overtime quarter.
Bay scored the first six points in overtime with Utley hitting four free throws around a Layne lay up to put Bay up 63-57. Augusta answered with three points to close the gap to 63-60. Skaggs completed a three-point play to make it 66-60 with 1:57 left. Utley hit three free throws in the last minute and a half to put Bay up 69-62 with 34 seconds left. Augusta got one more score to set our final at 69-64.
Pritchett led Bay with 30 points on the night. Utley finished with 18 points and Skaggs chipped in 12 points for the Yellowjackets.
Bay will meet EPC in one semi-final match-up.