Lady 'Cats tamed at NEA Invitational
Friday, January 3, 2014
The 14th-seed Trumann Lady Wildcats played a good first half against the third-seeded Rivercrest Lady Colts. A six point third quarter found the Lady 'Cats down 16 and they could not recover as Rivercrest posted a 63-48 win in the NEA Invitational Tournament being held at the Convocation Center.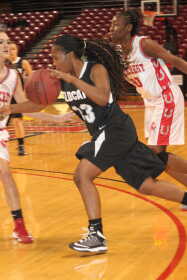 Taelor Gartman and Hannah Wood hit back to back three-pointers to put Trumann up 6-2 before Rivercrest came back to tie the game. Wood hit another three to put Trumann up 9-6 with 5:00 left in the quarter. The Lady Colts went up 12-9 scoring the next six points of the game. Gartman's free throw and Megan McGowan's three-pointer sandwiched around a Rivercrest score made it 14-13 Lady Colts with 1:36 to play. Rivercrest tacked on four more points to lead 18-13 at the end of one.
Rivercrest opened with a 6-0 run to start the second and go up 24-13 only to see Trumann respond with a 13-0 run to take a 26-24 lead. Garment hit one of two free throws to start the run and was followed by four consecutive three-pointers from Gartman, Wood, Shutavain Jones and Gartman again to make it 26-24 Lady Wildcats with 4:11 remaining before half. The teams battled hard for the rest of the quarter trading points. Rivercrest took the lead for good with an inside basket making it 33-31 with 1:08 left. Kali Bo Conaway's free throw with 27 seconds left got Trumann to within 33-32, the closet they would be the rest of the game. Rivercrest led 35-32 at half.
Rivercrest came out on fire the third quarter going on a 12-0 run to push the lead to 37-32 with 2:05 left. Deserae Harris stopped the streak with a basket inside for Trumann. Natalisha Moore scored inside to make the score 50-36 with 19 seconds left. The Lady Colts added a score to go up 52-36 after three quarters of play.
The Lady Colts pushed the lead to 58-36 with a conventional three-pointer followed by a three-point shot. Gartman scored on a lay up and then drilled a three-pointer form the right corner to make it 58-41. Wood canned a three and Harris scored off an offensive rebound to cut the lead to 58-46. Rivercrest extended the lead to 63-46 before Moore and Amber Kent each hit a free throw in the last minute to set the final at 63-48.
Gartman led the Lady Wildcats with 16 points on the night. Wood finished with 14 for Trumann.