Lady Indians advance to NEA title game
Friday, January 3, 2014
Marked Tree, #2 seed in the Division II girls' NEA Invitational Tournament, downed #3 seed BIC in the one semi-final match-up this past Saturday to reach the title game for the second year in a row. The Lady Indians got to finals by beating #15 Ridgefield Christian School 46-27 in the opening round. Marked Tree posted a 60-45 win over #7 seed Augusta in the second round.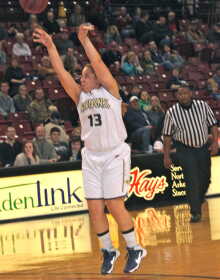 Marked Tree cruised in the opening round as they jumped out to a 16-4 lead in the first quarter before outscoring RCS 22-0 in the second quarter for a 38-4 halftime lead. It was 42-19 after the third quarter. Jay Perry led the Lady Indians with 12 points as Lexi Perry finished with 10 points for Marked Tree.
Against Augusta, both teams played well in the opening quarter as Marked Tree led 18-16 after one. The Lady Indians stretched that lead to 30-24 after two and 50-37 after three quarters of play. Lexi Perry led three Lady Indians in double digit points with 20. Jay Perry and Tullia Tull finished with 17 and 10 points respectively.
In the semi-final game with BIC, Diana Harris scored Marked Tree's first points with a three-pointer in between two BIC baskets to make it 4-3. Lexi Perry and Jay Perry made back to back buckets to put the Lady Indians up 7-4. Lexi Perry hit one of two free throws and Jay Perry got an easy bucket on a fast break lay up to make it 10-6 Marked Tree with 2:28 left. Jay Perry's running jumper in the lane between two Lady Mustangs scores made it 12-11 at the end of one.
BIC took the lead at 14-12 with a three-pointer to open the second quarter. Marked Tree responded with a 7-0 run to make the score 19-14 Lady Indians. Marked Tree had another 7-0 run about a minute later with Lexi Perry scoring inside and Jay Perry hitting a three and scoring on another fast break lay up to make it 26-16. Lexi Perry's basket with 1:30 gave Marked Tree a 28-17 lead before BIC scored the lat four points of the quarter to set the score at 28-21 at the half.
BIC opened the third quarter with a 7-2 run to make the score 30-28 Marked Tree. Kambria Marshall grabbed an offensive rebound and scored for Marked Tree to make it 32-28 before BIC scored the next four points to tie the game at 32 with 4:36 left. Jay Perry converted a conventional three-pointer to make it 35-32 Marked Tree only to see BIC come back tie the game at 35. Marked Tree closed the quarter with a 7-1 run as Dez Reel scored inside, Jay Perry went the length of floor for a lay up before converting another three-point play to take a 42-36 lead into the final quarter.
Harris stretched the Lady Indians lead to 44-36 with a jumper to start the fourth quarter. BIC cut the lead to four before Marshall's basket put the lead back to 46-40 with 5:29 left. A 6-2 Marked Tree run pushed their lead back to 10 at 52-42. The Lady Mustangs answered with a 7-1 run to make it 53-49 Marked Tree. Marshall drained two free throws making it 55-49 Lady Indians with 1:30 left to play. BIC got an inside basket to make it 55-51 before Harris and Reel each hit a free throw to make it 57-51 Marked Tree. The Lady Mustangs made two free throws before Reel hit a free throw for Marked Tree setting the final score at 58-53 Lady Indians.
"We played decent. Lexi and Jay had a good first half," Marked Tree coach Derik Drewett said after the game. "We played decently on defense, we have to get out on the shooters a little better," Drewett added.
Jay Perry led Marked Tree in scoring with 24 points while Lexi Perry finished with 14.