Warriors advance to NEA championship game
Friday, January 3, 2014
Second-seeded EPC punched their ticket to the finals this past Saturday night with a 71-54 over third-seeded Bay in the boys' Division II NEA Invitational Tournament being held in Jonesboro. The Warriors downed 15th-seeded Sloan-Hendrix 67-27 in the opening round before coming back and eliminating seventh-seeded Izard County Consolidated (ICC) 75-54.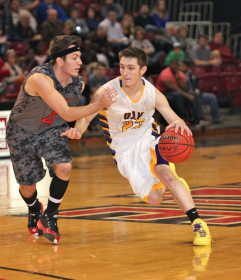 EPC jumped out to a 12-0 run again Sloan-Hendrix and never looked back. The Warriors led 20-7 after the first quarter, 34-19 at halftime and 55-25 after three. Chris Whitfield led EPC in scoring with 23 points. Clay Malone chipped in 12 points for the Warriors.
The Warriors got off to another good start against ICC but turned it up in the second half on their way to the win. EPC lead 16-8 after one, 29-23 at the half and 54-35 after three. Malone led the way for EPC with 24 points. Whitfield added 17 points and Byron Scales netted 12 for the Warriors.
Sporting new camouflage uniforms for their semi-final match-up with the Yellowjackets, the Warriors got off to a slow start in the first quarter. Bay jumped out 5-0 as Dustin Utley drilled a three-pointer to start the game and Jonathan Crain got a stick back off an offensive rebound with 6:10 left. Whitfield got EPC on the board with a jumper in the lane to make it 5-2 Bay. EPC got a free throw from Byron Scales and a jumper from T.J. Young to make the score 8-5 Bay. Bay answered with two free throws from Kylor Skaggs, another three-ball from Utley and a jumper from Tyler Pritchett to put Bay up 15-5. The teams exchanged points the last two minutes of the quarter with Bay holding an 18-11 lead after one.
The second quarter saw both offenses turn on the gas as the fast pace produced 36 total points. The Warriors opened with a 7-2 run to make it 20-18 Bay. Des Barnes, Byron Scales and Andy Tacker all had baskets during the run, Byron Scales added a free throw after his score. Taylor Layne hit two free throws for Bay's points during the run. Bay answered with a 7-0 run to push their lead to 27-18. Pritchett scored all seven points during the run for Bay. After an exchange of scores, EPC reeled off six straight points to make the score 28-26 Bay with 3:05 left. Byron Scales hit a jumper before Barnes hit one of two free throws and followed that with a three-pointer from the left wing. The teams traded scores again before EPC ended the quarter on a 8-0 run to take a 34-31 lead into the half. Paul Pilgrim got inside for a score, Malone hit one of two free throws followed by two free throws from Tacker. Malone made another free throw and Byron Scales scored inside.
Utley cut the Warriors lead to 34-33 with a jumper to open the third quarter before EPC reeled off the next nine points to go up 43-33 with 5:16 left. Pritchett stopped with a base line jumper for Bay only to see Byron Scales score back to back buckets for EPC to make it 47-35 Warriors. The teams traded baskets the last three minutes of quarter with Pritchett, Crain and Utley hitting shots for Bay and Aaron Scales knocking down a three and Byron Scales scoring inside again to give EPC a 52-41 lead after three quarters of play.
The final quarter was much like the third as both offenses kept up the fast pace scoring. Tacker drained two free throws for EPC to start the quarter before Bay scored seven straight points to cut the lead to 54-47. Layne and Pritchett both connected on three-pointers and Crain hit a free throw during the Yellojackets run. EPC scored the rest of their points in the quarter from the charity stripe as Bay got in foul trouble. The teams traded free throws over the next two minutes with Tacker, Aaron Scales and Barnes all hitting two and Byron Scales making one for EPC while Crain hit one and Pritchett hit two for Bay to make the score 61-51 EPC. Aaron Scales was fouled by Skaggs with Skaggs being issued a technical foul after the play. Aaron Scales hit both free throws for the foul and Malone made both free throws from the technical foul to put the Warriors up 65-51. Pritchett had a steal and lay up before the Warriors scored the next six points on free throws to push their lead to 71-53. Pritchett finished out the scoring with a three-pointer to set the final at 71-56.
"I thought we started out slow, gave up to many offensive rebounds early. Once we got that cleared up, we played well the rest of the game," EPC coach Josh Hill said after the game. "We have got to eliminate some of our mental errors. We had balanced scoring tonight and that helped as we got into a little foul trouble," Hill added.
EPC had four players in double figures with Byron Scales leading the way with 19 points. Malone added 13 points, Tacker finished with 11 points and Aaron Scales chipped in 10 points for the Warriors.
"They attacked tonight and we didn't, that was it. They got to the free throw more than we did. The game was called tight and they took advantage of it and we did not," Bay coach Brad Brannen said. "We got in foul trouble and that hurt us," Brannen added.
Pritchett led all scorers with 30 points for Bay.