Marked Tree Chamber cosponsors walk through history
Monday, January 6, 2014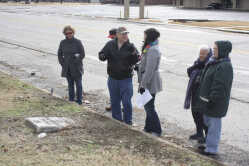 Many memories were rekindled for a few residents of Marked Tree during a Walk Through History Tour on Saturday, Dec. 14. The Marked Tree Chamber of Commerce cosponsored the walk presented by Rachel Silva, Preservation Outreach Coordinator for the Arkansas Historic Preservation Program.
Silva began with a brief history of Marked Tree and how the small town acquired its unusual name. She said it was legend that a large white oak tree on the bank of the St. Francis River was marked with an "M" in the 1830s by John Murrell's gang of outlaws. The tree served as a distinct marker for travelers.
In 1890, a flood caused the tree to fall into the St. Francis River. According to Silva, a tree said to be the "marked tree" was pulled from the river in 1971 and displayed on Frisco Street. Now, a memorial stone is in its place.
The tour of the Marked Tree Commercial Historic District began at the Poinsett County Drainage District No. 7 Office, formerly known as the Farmers and Merchants Bank and Trust Building, on Frisco Street. As her audience moved down the street, she continually shared historical facts about the buildings and lots where buildings previously existed.
Beginning at the corner of Elm Street and Frisco Street, Silva began telling the history of the Ritter Estate buildings, which housed a variety of businesses that served Marked Tree for a number of years.
"The Ritter family had a huge impact on the development of Marked Tree," Silva said.
She added Ernest Ritter came from Iowa to Marked Tree to work in the Oliver Davis Sawmill. After opening a mercantile in 1889, he became successful very quickly. A sawmill, a commercial fishing business, an ice plant, cotton gin, and a lumber company are only a few of the business interests of the Ritter family in the 1800's and 1900's that were mentioned by Silva. Walking past the Ritter estate buildings, Mayor Mary Ann Arnold shared her own personal memories.
Marked Tree was chosen by the Arkansas Historic Preservation Program as December's "Walk Through History." It holds "Walks Through History" once a month all over the state of Arkansas. Arnold expressed her thanks to Silva for conducting the walk, and also gave thanks to the Chamber for cosponsoring.