Marked Tree Chamber has successful year
Monday, January 6, 2014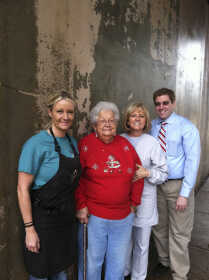 With the end of the year near, Marked Tree Mayor Mary Ann Arnold deemed the year a success for Marked Tree with the help of its civic clubs including the Marked Tree Chamber. According to Marked Tree Chamber President Sandy Teague, this year has been one of the most successful years for the group in all of its history.
In 2013, Arnold said several businesses have grown and prospered in Marked Tree thanks to the help of the chamber and local community. This year, the chamber began giving baskets to businesses on a quarterly basis to show its appreciation. Teague said this is one of many things the Chamber does for its businesses and community.
Being a business owner herself, Teague sees many benefits for businesses to be located in Marked Tree. She has experienced the support of the small-town community several times since the opening of her business Caring Hearts Home Care. As a testament to her success, Teague said there are ample opportunities for small businesses to come in and be successful in Marked Tree.
"You have to bloom where you are planted, and we are blooming here in Marked Tree," Teague said.
In addition to promoting their economic growth, the Chamber also helps with various projects in the community. This year, the chamber has done a Yard of the Month, teamed up with the school on various projects, held community-wide contests such as Paint the Town Blue and worked with Rotary with the Peggy Bankston Walk and to clean up the town. A recent project accomplished by the Chamber is the cleaning of the under-pass, which is one step closer to the ultimate goal.
With the cleaning and restoration of the under-pass, Teague sees it as one step closer to their goal. After the beginning of the year, the Chamber will be taking feedback from community members on what should be painted in the area cleaned. The Chamber has teamed up with the Marked Tree School District for the project, so students will be handling the painting.
Teague also has plans to have local businesses adopt different areas of land around the under-pass to plant shrubberies, flowers and other plants for an attractive landscaping.
Mayor Mary Ann Arnold said she hopes to see several more measures taken to make the town more presentable by herself and the community within the coming year.
"We are going to continue to clean the city, and show the town in a more positive and progressive state of mind. 2014 is going to be another boost for Marked Tree," Arnold said.