Trumann teachers receive recognition
Monday, January 6, 2014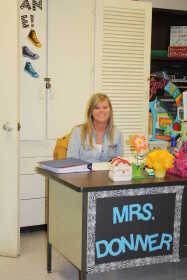 The Trumann School District recently recognized two of its teachers for becoming National Board Certified Teachers (NBCTs). Superintendent Myra Graham said the district only has a few NBCTs, and she was proud to have the district gain two more.
According to NBCTs website, the mission of the National Board is to advance student learning and achievement by establishing rigorous standards and systems for certifying accomplished educators. The program supports excellency in teaching through evaluating the status, voice and role of accomplished teachers.
Trumann Cedar Park Elementary NBCT Carrie Donner said she thought going through those evaluations of her teaching helped her become a better teacher. Donner received certification in Early Middle Childhood/Literacy: Reading-Language Arts.
Donner is a kindergarten teacher at CPE. She has taught for nine years, with two years in the Trumann School District. In addition to being a NBCT, she has her Master's in Gifted and Talented.
"I'm always looking for ways to become a better teacher," Donner said. "The process helped me reflect on my teaching strategies."
Trumann High School NBCT Dru Fergerson agreed with Donner by stating it also helped her on reflecting. Fergerson said she gained experience by going through the process, and she also feels it helped her with New Tech teaching.
Fergerson is in her sixth year of teaching. This is her first year at Trumann teaching a 10th grade cross-curricular course--Global Studies.
"In a way, going through the process of National Boards really helped prepare me for the New Tech process," Fergerson said. "I had a greater understanding going into New Tech, because in many ways it overlaps with what I had to do with National Board. I definitely feel like it's helped me become a better teacher."
To achieve National Board Certification, teachers must have a commitment to NBCTs five propositions. The propositions state that NBCTs are committed, knowledgeable, responsible, systematic thinkers and members of learning communities.
NBCTs must go through a series of six written tests on content knowledge and assemble four portfolios. The process is said to take three years; however, Donner and Fergerson, both, finished in their second year of the process.
As the certification is recognition on a national level, both teachers were excited to have completed the process and look forward to more ways of improving their teaching.