Students create community crisis plans
Monday, January 6, 2014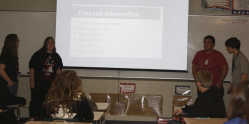 The nation has been hit with a wave of a deadly disease, and Trumann is one of the only communities yet to be affected. With this creative scenario in mind, the Trumann High School 10th grade Global Studies class has created crisis plans for the community.
"They came up with everything from preventative measures to take and how to communicate with each other during the outbreak to what to do afterward," said Dru Fergerson, Global Studies teacher.
The project was inspired by the Middle Ages and the Bubonic plague. After studying the time period and the disease, the students were given their own disease to do an in depth study with a small group of their peers. Fergerson said the project overlapped with several different classes outside of World History and English, including Biology and Geometry.
The students had to create a document much like the city's crisis plan for natural disasters. Using technology for the document, they created their own maps of Trumann to give a visual demonstration to the plan.
The project is a part of New Tech learning adopted by Trumann for its 9th and 10th graders. New Tech learning is based on ensuring students have the personal skills and problem solving skills which will apply to daily work life, in addition to making sure they are thoughtful readers with strong writing and math skills. Through the program, the use of technology is increased in the schools to help prepare students for using more advanced technology when they get out of school.
New Tech also focuses on bringing the students and the community together in collaboration so students can grow into becoming successful and meaningful members of the community.
With that idea in mind, Fergerson and co-teacher for the Global Studies classroom Aaron Hall, tried to get students as involved as possible with the project. Fergerson said they had even set up for the mayor, fire chief, and other city officials to evaluate the students plans for accuracy; however, the inclement winter weather left them behind schedule and prevented the original plan from happening.
Instead, the students presented their crisis plans to their fellow peers after several weeks of preparation. The teachers encouraged the students to ask questions after each presentation regarding real issues that could possibly occur during the event of the outbreak.
"They did a phenomenal job with the whole thing," Hall said. "It put them in a real-world situation with them creating real-world documents."
Fergerson added the students worked very independently throughout the project, and she was also very pleased with the result.