A look back at the top stories of 2013
Monday, January 6, 2014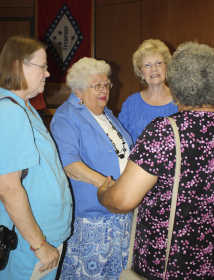 With the celebration of its 175th birthday this year, Poinsett County saw its share of big stories in 2013. The following are some of the top stories of the year.
Poinsett County turned 175 years old this year. The county was established on Feb. 28, 1838. The county was named after Joel Roberts Poinsett, according to County Judge Charles Nix. Joel Roberts Poinsett was a statesman, scientist and botanist. Several events took place throughout the year to honor this big turning point in history.
One of the biggest stories of 2013 was the drug charges filed against former Trumann Police Chief Tony Rusher and Detective Erik Willbanks. Both former employees of the Trumann Police Department were charged with two felony counts of obtaining a controlled substance by fraudulent means. In 2012, Rusher was placed on paid administrative leave and later resigned after private investigator and former Arkansas State Police special agent Phil Carter investigated the theft of prescription drugs from the department's evidence room.
In Carter's report, Rusher admittedly had "taken pills, or received pills, from officers that came out of the evidence room." Willbanks was the alleged officer.
Willbanks was fired by Trumann Mayor Sheila Walters March 7, 2012, one week after being suspended two weeks without pay. Willbanks is scheduled to go to trial Jan. 13-17 in Harrisburg.
On Nov. 25, Rusher pleaded guilty and was given a 5-year suspended sentence. He is also set to testify in Willbanks' trial.
2013 also brought sad news to Marked Tree when former Mayor Wayne Nichols passed away on May 5, at age 76. Nichols was serving his first term as mayor of Marked Tree. Shortly afterwards, Alderman Michael Scott was appointed by the Marked Tree City Council to serve as mayor pro term until the special election held in August.
Four candidates ran for the open position including Mary Ann Arnold, Dixon Chandler, Cleo Johnson, Jr. and James E. Williams. After a runoff between Arnold and Chandler, Arnold made history and was named the first woman mayor of Marked Tree at age 86.
Marked Tree also sought out a new city attorney after the resignation of former city attorney Mike Dabney. On Nov. 22, Jobi Teague was sworn in as Marked Tree City attorney by Judge Phillip Whiteaker, who sits on the Court of Appeals in Little Rock.
In other Poinsett County big news, the city of Lepanto began looking at replacing 80 year old water lines, which eventually resulted in a half-cent sales tax raise. In March, City Engineer Jerome Alford estimated it would take $1 million to replace the city's 13,000 feet of galvanized pipe. In April, the Arkansas Natural Resources Commission announced the approval of a loan in an amount up to $1,030,000 from Water, Waste Disposal and Pollution Abatement Facilities General Obligation Bond Funds to the city of Lepanto. In December, voters approved the half-cent sales tax raise to fund the replacement. Once the loan is paid off, the sales tax increase will automatically end.
2013 proved to be an eventful and growing year for Poinsett County. With many projects to come forth in the coming year, it seems 2014 will bring even more stories from the county.