Lady Indians lose thriller in NEA Invitational final
Friday, January 10, 2014
Marked Tree came up just short of the championship trophy in the girls' Division I NEA Invitational Tournament falling to Rector 57-56.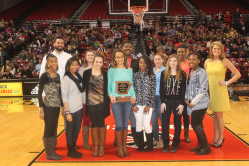 Rector jumped out to a quick 5-0 lead with Kristen Smart canning a three-pointer and Anna Blackshare hitting two free throws. Jay Perry got Marked Tree on board with a base line jumper with 4:04 to play making the score 5-2 Rector. Smart drilled another three-pointer for Rector and Jay Perry answered with a three-ball of her own to make it 8-5 Lady Cougars. Lexi Perry grabbed an offensive rebound and scored to pull Marked Tree within one at 8-7 before Rector got another three-pointer from Smart and an inside basket from Blackshare to make 13-7 Rector with 1:36 left to play. Lexi Perry scored again off an offensive rebound to make the score 13-9 Rector after one.
Lexi Perry scored inside and then hit two free throws for Marked Tree to tie the game at 13 with 6:32 left in the second quarter. Jay Perry gave the Lady Indians a 15-13 lead with a jumper in the lane at the 6:03 mark. Kendall Gunn tied the game with a lay up for Rector and Blackshare gave the Lady Cougars a 16-15 lead hitting one of two free shots before Lexi and Jay Perry hit back to back shots to give Marked Tree a 19-16 lead. Smart scored inside for Rector and Lexi Perry got inside for a score to make it 21-18 Lady Indians with 3:44 left before half. Blackshare hit a free throw and then scored inside to tie the game at 21. Blackshare gave Rector a 23-21 lead with an easy lay up only to see Marked Tree retake the lead with Lexi Perry converted a conventional three-point play making it 24-23 Lady Indians. Gunn canned a three with 30 seconds left giving Rector a 26-24 lead before Dez Reel hit a jumper with 10 seconds left to send the teams to half tied at 26-26.
The game continued to be back and forth with Gunn hitting a jumper for Rector to open the third quarter. Diana Harris was good a three-pointer for Marked Tree followed by a jumper from Reel to give the Lady Indians a 31-28 lead. Rector reeled off the next points to go up 38-31. Blackshare scored inside and canned a three-pointer followed by Gunn sinking a three and hitting a jumper in the lane. Kambria Marshall hit two free throws to stop the Lady Cougars run making the score 38-33 Rector. Bailey Haney and Blackshare both made a free throw to put Rector up 40-35. Jay Perry made two free throws after being fouled to make the score 40-35 Rector after three quarters of play.
The final quarter saw both offenses turn up the scoring to give the fans a thrilling finish. Gunn made a driving lay up to start the fourth and give Rector a 42-35 lead. Jay Perry scored back to back buckets for Marked Tree cutting the lead to 42-39. Blackshare drilled a three-pointer for Rector before Jay Perry, Marshall and Tullia Tull scored consecutive baskets for Marked Tree to tie the game at 45 with 5:06 left. The teams traded free throws over the next few possessions with Gunn hitting two Rector, Marshall made one for Marked Tree, Gunn connected on another free shot and Lexi Perry hit one of two free throws to make it 48-47 Lady Cougars. Gunn gave Rector a 50-47 lead with a jumper at 2:21. Back to back buckets by Lexi and Jay Perry gave Marked Tree a 51-50 lead with 1:20 left. Blackshare hit two free throws, Lexi Perry scored inside for Marked Tree and Haney drilled a three-pointer for Rector making the score 56-53 Lady Cougars. Gunn hit one of two free throws with six seconds left making it 57-56. Jay Perry hit a three-pointer for Marked Tree at the buzzer to se the final score.
"I thought it was a good game. A lot of back and forth," Marked Tree coach Derik Drewett said after the game. "We got down before pulling ourselves out of it. They (Rector) hit some big shots and we missed a few," Drewett added.
Jay Perry scored 22 points and Lexi Perry added 20 points for Marked Tree.
Blackshare had 21 points for Rector followed by Gunn with 20 and Smart with 11 for the Lady Cougars.