Warriors take NEA Invitational title
Friday, January 10, 2014
EPC made it four NEA titles in the last five years as they beat Maynard 57-38 to win the boys' Division I championship in the NEA Invitational Tournament.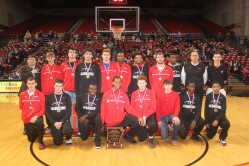 Byron Scales, who finished with 17 points and 15 rebounds, got the Warriors out to an early 4-0 with a steal and lay up to start the game and then connecting on a jumper in the lane. Maynard took a 5-4 lead with 4:16 left before the Warriors scored the last six points to lead 10-5 after the first quarter. Byron Scales had a conventional three-pointer before hitting two free throws to make it 9-5 EPC. Clay Malone connected on one of two three throws to set our first quarter score.
Andy Tacker drilled a three-pointer and T.J. Young hit a base line jumper to put EPC up 15-8. After a missed free throw from Maynard, Tacker drilled another three-pointer and then added two free throws to make it 20-8 Warriors. Maynard scored the next six points to make it 20-14 before Chris Whitfield and Malone hit back to back jumpers for EPC to make the score 24-14 Warriors. Maynard cut the lead to 24-19 scoring the last five points before halftime.
EPC opened the third quarter with a 9-0 run to go up 33-19. Paul Pilgrim hit a free throw to start the run followed by a basket from Byron Scales, back to back buckets from Aaron Scales and another basket from Byron Scales. Maynard got a bucket to stop the run and make it 33-21 EPC. Malone canned a three to make it 36-21. Aaron Scales got a floater to fall and Tacker hit two free throws from a technical foul again Maynard to make it 40-29 EPC. The Scales brothers, Aaron and Byron, each grabbed an offensive rebound an scored back to back baskets to make it 44-30 EPC after three.
Maynard opened the final quarter with a three-pointer before Byron Scales hit two free throws and Aaron Scales scored on a lay up to make the score 48-33 Warriors. Pilgrim and Aaron Scales each hit a free throw and Jamal Rodgers scored inside to push the EPC lead to 52-35. Kyler Gordon canned a three pointer and Matthew Ferguson scored inside to set the final score at 57-38.
"We did enough stuff right with the game keeping him (Maynard's Watson) extended out on the floor. We rebounded well but our offense was pretty ugly tonight," EPC coach Josh Hill said. "We have got to play better offensively," Hill added. "It's pretty neat we've won every time we've made the finals."
Along with Byron Scales big night, Aaron Scales added 11 points and Tacker chipped in 10 for the Warriors.