EPC holds on for win over Indians
Friday, January 10, 2014
After a close first half, EPC built as much as a 15 point lead in the third quarter before Marked Tree came storming back in the fourth but could get no closer than five points as the Warriors went on to a 58-53 win in this 2A-3 conference game.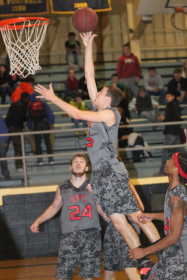 Clay Malone hit back to back three-pointers for EPC as Dee Griffin sandwiched a jumper between them for Marked Tree to make the score 6-2 EPC with 6:50 to play. Marked Tree's Terry Carter and Paul Pilgrim of EPC traded baskets before Daniel Rucker scored inside and Cameron Mitchell canned a three-ball for Marked Tree to give the Indians a 9-8 lead. Byron Scales hit two free throws and Chris Whitfield hit back to back shots for EPC to give the Warriors a 14-9 lead. Marked Tree closed with a 10-3 run to take a 19-17 lead after one. Kedrick Tyler scored off an offensive rebound for the Indians, Whitfield connected on a three-pointer for EPC before Griffin converted a conventional three-pointer, Carter scored inside and Griffin nailed a three-pointer from the right wing.
The second quarter was again a back and forth affair between the teams. Carter pushed the Marked Tree lead to 21-17 with a basket before Des Barnes hit a free throw for EPC to make it 21-18. Rucker and T.J. Young exchanged baskets making it 23-20 with 5:02 left. Griffin hit a free throw for Marked Tree, Byron Scales scored inside for EPC and Rucker scored inside to give the Indians a 26-22 lead. EPC scored the last eight points to take a 30-26 lead into the half. Paul Pilgrim hit a running jumper, Byron Scales scored inside and then hit one of two free throws and T.J. Young canned a three at the buzzer.
EPC came out hot in the third quarter going on an 13-2 run. Malone hit a jumper to start the quarter for EPC before Griffin hit a jumper for the Indians. Byron Scales hit back to back shots and was fouled on the second basket. His free throw was good. Malone,Whitfield and Byron Scales hit back to back to back shots to make it 43-28 with 2:48 left. Carter and Griffin answered with back to back scores for Marked Tree cutting the lead 43-32. Des Barnes made one of two free throws for EPC, Keland Perry drilled a three-pointer for the Indians and Aaron Scales hit a jumper with 37 seconds to make the score 46-35 EPC heading to the fourth quarter.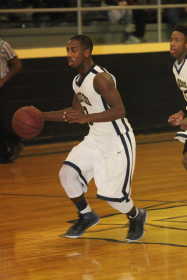 Mitchell hit a jumper for Marked Tree to open the fourth quarter as Aaron Scales answered for EPC with a basket inside. Carter grabbed an offensive rebound for the Indians and scored to make it 48-39 Warriors. Malone scored the next seven points for EPC to put the Warriors up 55-39 with 5:20 left. Marked Tree got back to back scores from Griffin and Carter to cut the lead to 55-43. Pilgrim hit a free throw for EPC before Rucker made two baskets around a Griffin score to cut the lead to 56-49. Griffin and Carter scored back to back after an EPC missed free throw cutting the Warriors lead to 56-53 with 24 seconds left. Pilgrim and Aaron Scales each hit a free throw before the final buzzer to set the final score at 58-53.
Malone led the Warriors in scoring with 17 points. Byron Scales added 15 for the Warriors.
Griffin led all scorers with 19 points for the Indians. Carter netted 16 points for Marked Tree.