Poinsett County Judge Nix to retire
Friday, January 10, 2014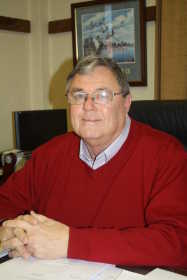 Poinsett County Judge Charles Nix said this week that he will retire at the end of the year and not seek re-election for a fourth term.
Nix, who turns 67 this month, said it was one of the hardest decisions he has had to make in his career. It's a decision he said he and his wife, Elaine, have been discussing for sometime.
"In the final analysis," Nix said "It was a decision I had to make and now is the time to step down."
"A lot of people have been asking me and speculating on what I was going to do," he said. "It was not until this week I decided it was the right decision for me to move on."
"I still have a year left on my term and I want to do all I can to help move the county forward," said Nix. "I have enjoyed working with all the other officials in the county over the past five years and will continue to do so for the remainder of the year. There are still things to accomplish and we all will continue to work together for the residents of Poinsett County."
With the filing period opening soon, Nix said he did not want to delay his decision any longer and hopes there are those who are willing to step forward and take an interest in county government.
"Though it can be demanding at times it is also rewarding," said Nix.