Senior Networking group holds first meeting
Wednesday, January 15, 2014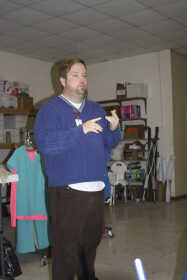 The Poinsett County Senior Networking Group held its first meeting on Tuesday, Jan. 7, with several representatives from healthcare agencies around the county.
"We are really excited about starting the group. We want to be able to highlight and showcase facilities in Poinsett County," said Sherry Pearce, co-sponsor for the event and Community Outreach and Admissions Coordinator for Three Rivers Healthcare and Rehabilitation. "A lot of things are centrally located in Jonesboro and you hear highlights from Northeast Arkansas a lot, but we want to get the word out about what all we have in Poinsett County."
Pearce said Sponsor Jacquelyn Gibson with Absolute Care Management approached her with the idea to form the group for networking. The goal is to improve the care and quality of the lives of seniors by providing education and resources through collaboration with community agencies and organizations.
Brad Hyde with Delta Medical was the first speaker for the group this month. Hyde motivated the healthcare professionals with anecdotes about his own experience working in the field. He also offered advice on how to become a better worker.
"A lot of people in the medical field experience compassion fatigue,' Hyde said.
He added the fatigue can come from seeing the same problems over and over, however he stressed the importance of the professionals to be positive thinkers.
"Positive thinking is a way that you can make a difference," Hyde said.
He went on to explain the stress of the job can be overwhelming at times, but its about how people deal with stress. Hyde said a positive path must be chosen everyday, whether its concerning personal problems or work-related problems.
Hyde also gave a little information about the services offered by Delta Medical including the fact that Delta Medical Center offers an array of services for patients. The center is a medical surgical hospital with four different units including senior care, mental health, dual diagnosis and a behavioral health unit.
The first meeting proved to be successful with several senior healthcare agencies meeting with each other to exchange contact and service information afterwards. Gibson said the meetings with professional speakers will be held at noon the first Tuesday of every month at Absolute Care Management.
Anyone wanting more information about the meetings or how to get involved may contact Gibson at (870) 935-3737 or Pearce at (870) 358-2432.