Late basket sinks Wildcats in classic action at Swifton
Thursday, January 16, 2014
Trumann squared off against Corning in one semi-final game of the Kell Classic being held in Swifton this past Saturday night. Corning scored with six seconds left in the game to advance with a 57-55 win over the Wildcats.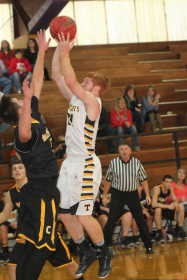 Corning jumped out to a 6-0 lead before Trumann got on the board with A.J. Winningham hitting a base line jumper with 4:47 left making it 6-2. The Bobcats reeled out eight more points before Grayson Dye stole the ball and went in for an easy lay up to make the score 14-4 Corning. Corning added another score pushing their lead to 16-4 after the opening quarter.
The teams traded points to begin the second quarter with Winningham connecting on a jumper and Enrico Cristalli, an exchange student from Italy, making a jumper in the lane to make the score 20-8 Corning. Cristalli hit two free throws and Westen Gilliam scored inside for the Wildcats to cut the lead to 22-12. Corning pushed the lead to 14 with 4:46 left Trumann went on 12-0 run to finish the quarter. Dye started the run with a three-pointer from the left wing and Taylor Wilson scored off an offensive rebound to make it 26-17 with 3:37 left. Jacob Mincy stole the inbound pass and scored before Dye hit a three-point bomb making it 26-22 Corning. Wilson grabbed another offensive rebound and put it back in to make the score 26-24 Corning at the half.
Trumann got back to back three-pointers from Tre Simmons and Winningham to open the third quarter giving the Wildcats their first lead at 30-26. Dye's free throw at 5:56 made it 31-28 Trumann before Corning got back to back scores to take a 32-31 lead. Winningham canned a three to give Trumann the lead back at 34-32 with 4:17 left. Cristalli scored inside and Winnigham canned another three-pointer pushing Trumann's lead to 39-33. Cristalli got inside for another score and Winnigham hit one of two free throws to make 42-36 Wildcats with 1:58 left in the third. Winnigham hit two free throws after a Corning technical to make the score 44-38 Trumann after three quarters of play.
The final quarter started out with the teams trading baskets to make it 46-42 with 5:52 left. Trumann missed four straight free throws before Gilliam scored inside for Trumann to make it 48-42. Corning cut the lead to 48-46 before Gilliam hit two free throws to make the score 50-48. Corning tied the game only to see Winningham can another three-pointer making it 53-50 Trumann. Corning scored the next five points to take a 55-53 lead with 58 seconds left. Cristalli scored inside to tie the game at 55 with 12 seconds left. Corning scored on a lay up with six seconds left and Trumann's final attempt was off the mark giving the Bobcats the 57-55 win.
Winnigham led the Wildcats in scoring with 19 points with Cristalli finishing with 10 points for Trumann.