Bay swarms Hoxie in Kell semi-finals
Thursday, January 16, 2014
Bay raced out to a 6-0 lead and never looked back as they cruised past Hoxie 62-41 to advance their fifth straight Kell Classic championship game.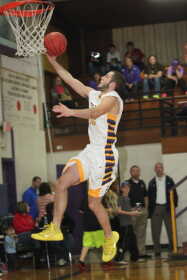 Tyler Pritchett put Bay on board with a base line jumper to open the game and Nolan Smith made it 4-0 Bay with a jumper off an offensive rebound. Jonathan Crain hit two free throws after being fouled to make it 6-0 Yellowjackets. Hoxie cut the lead to 6-5 before Bay scored the next six points to take a 12- 5 lead. Crain scored inside, Dustin Utley hit a jumper and Cade Prince scored inside to set the first quarter score.
The teams traded baskets to open the second quarter with Kylor Skaggs and Taylor Layne both hitting jumpers for Bay to make it 16-10 Bay. Bay scored the next eight points to go up 24-10. Skaggs scored back to back inside baskets, Utley and Crain both made a free throw and Utley finished the run with a lay up at the 3:56 mark. Crain scored inside and was fouled. Crain was good on his free shot to make it 27-11 Bay. Hoxie cut the lead to 27-16 before Utley hit a jumper in the lane with 17 seconds left to make it 29-16. Hoxie scored right before half to make the halftime score 29-18 Yellowjackets.
A Hoxie basket cut the lead to 29-20 before Utley scored inside and Pritchett canned a three-pointer to push the Bay lead to 34-20. Skaggs got a steal and a lay up and Crain rebounded his own miss and scored to make it 38-22 Bay. Utley got a jumper to fall and Layne netted a three-ball making the score 43-25 Bay with 2:12 left. Hoxie scored six consecutive points to make it 43-31. Crain scored inside and Smith canned a three from the left wing to give Bay a 48-31 lead after three quarters.
Skaggs hit one of two free throws to open the scoring in the fourth quarter followed by a coast to coast lay up from Layne and a jump hook shot from Crain to run Bay's lead to 53-31. Hoxie got back to back three-pointers to cut the lead to 53-37. Layne hit a free throw, Pritchett scored on a fast break lay up and Skaggs made one of two free throws making it 57-37 Yellowjackets. Crain hit a free throw, Layne scored off the fast break and Michael Willard scored inside to make it 62-39 Bay. Hoxie scored with 49 seconds left to set the final score.
Crain led four Yellowjackets in double digit points with 15. Utley finished with 11 points as Skaggs and Layne both had 10 points for Bay.