A day of duck hunting
Thursday, January 16, 2014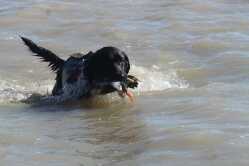 The alarm clock buzzed at 3:30 in the morning and I was full of anticipation when I turned the alarm. I was headed out this morning to go duck hunting with my cousin Kail Harris at Whispering Oaks Lodge in Waldenburg. They had been on the ducks for the last few days and I hoped their luck would carry over to today.
I had packed all my gear up the night before and had it ready to go by the door. A quick stop for gas and snacks and I was on my way to meet Kail at his house. Arriving at the house, I met Tyler and Trent Hall of Triple T Labs out of Bruce, MS who were going to hunt with us. Harris' dog, Moonshine Bandit, was trained by Hall and he brought along Walk The Line Cash to retrieve too. I brought along my camera as I knew these beautiful dogs would be the stars of the day.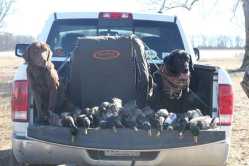 It was a brisk 35 degrees when we got set up for the morning hunt. George Washington, owner of the lodge, joined us with his three guests. It' didn't take long before a group of green-wing teal buzzed the decoys and swung around to come back for another look. We knocked three down and off Cash and Bandit went to get them. The first couple hours were pretty good despite the wind blowing the wrong direction for the ducks to work like we wanted.
The big ducks, mallards, started making there appearance a little after nine. We'd knock one down here and another there and each time the dogs were eager to get after the downed bird. It was such a joy to watch these animals work. Each time the respective trainer blew his whistle, the dog stopped and turned for new instructions. Each dog followed the directions flawlessly until they caught sight of the downed bird and it was full charge to get it.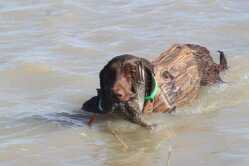 As the birds slowed down in flying, we spent time snacking on goodies and telling stories and getting to know each other. The dogs stayed at their posts eager for the next command to fetch.
We got into a couple more groups of ducks before we called it a day. The dogs were tired from a good day of retrieving and chasing down birds. They definitely earned the meal they would receive after the day of hunting.