Joy Dycus Easter
Wednesday, January 22, 2014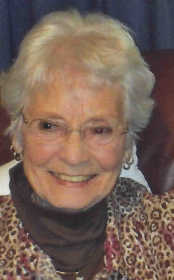 TRUMANN - Mrs. Joy Bell Dycus Easter, 87, of Trumann died Thursday, January 15, 2014 at NEA Baptist Hospital in Jonesboro. She was born in Bragg City, MO and had lived most of her lifetime in the Trumann area. She was retired from Singer Company and was a member of Parkview Missionary Baptist Church. Mrs. Easter was preceded in death by three sisters, two brothers, and her parents W.A. and Pearl Hurdle. Survivors include her two daughters, Denise (Steve) Chaney of Waterloo, Ill and Gina Dycus of Trumann; two sons Hilton (Ina Raye) Hurdle of Weiner and Melvin (Jennifer) Dycus, Jr. of Trumann; six grandchildren, Matt Hurdle, Alexis Hurdle, Cristal King, Merrick Dycus, Maddox Dycus and Hollyn Dycus and several nieces and nephews.
Funeral services were Jan. 17 in the chapel of Thompson Funeral Home with Bro. Bubba Reese and Bro. Larry Merrell officiating. Burial followed in the Jonesboro Memorial Park Cemetery in Jonesboro.
Pallbearers were Alan McClung, Matt Hurdle, Jody Burrow, Calvin Rutherford, Jay DeFord and Bobby Fletcher.
Lasting memorials can be made to National Breast Cancer Foundation or Parkview Missionary Baptist Church 109 N. Parkview, Trumann, AR 72472
An online guest book can be signed at www.thompsonfuneralhome.net.