Wildcats fall to Brookland
Friday, January 24, 2014
Trumann jumped out to a early 6-2 lead but it was short lived before Brookland bounced back and took the lead with just over three minutes to play in the opening quarter on their way to a 66-39 4A-3 conference win in Trumann this past Tuesday night.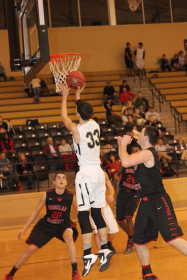 Enrico Cristalli put the Wildcats on the board with a score off an offensive rebound to open the game. Westen Gilliam made it 4-0 Trumann with an inside basket at the 6:35 mark. Brookland scored a basket and A.J. Winningham answered with a jumper in the lane to make it 6-2 Trumann. Brookland scored the next seven points to take a 9-6 lead. Cristalli scored off another offensive rebound to make it 9-8 Bearcats. Brookland stretched their lead to 13-8 before Gilliam scored inside to make it 13-10. Brookland got a basket and a free throw to make it 16-10 Bearcats after one quarter of play.
Brookland opened the second quarter with a three-ball, the first of five in a row for the Bearcats to take a 19-10 lead. Taylor Wilson hit a jumper for Trumann and Simmons made two free throws around a Brookland three before the Bearcats reeled off three more treys to make it 31-14 with 3:30 left before half. Wilson scored inside and Gilliam made two free throws to make the score 34-18 Brookland. The Bearcats scored the last eight points of the quarter to take a 42-18 lead at halftime.
Brookland got on the board first in the third quarter extending their lead to 44-18 before Gilliam hit one of two free throws and Winningham made two free throws to make the score 44-21. The Bearcats scored back to back buckets making the score 48-21 Brookland with 3:35 left. Simmons canned a three and Cristalli scored inside for Trumann to make it 48-26 Bearcats. Grayson Dye got a steal and a lay up for the Wildcats in between two Brookland scores making the score 52-28 headed to the final quarter.
Cristalli and Gilliam both had buckets around two Bearcat free throws to make it 54-32 with 6:30 left in the game. Brookland scored the next five points to go up 59-32. Winningham made three straight trips to the charity stripe sinking five of six free throws making the score 59-37 Brookland. Brookland scored seven straight to push their lead to 66-37 before Stoney Chandler finished the scoring by making a lay up for Trumann with 12 seconds left setting the final score.
Winningham and Gilliam had nine points each to lead Trumann in scoring on the night.
Brookland won the junior high game 50-25.