Warriors win thriller over Marked Tree
Friday, January 24, 2014
For the second time this month, EPC looked to be in control of the basketball game only to see Marked Tree make a push in the second half before posting a 64-58 win in their 2A-3 conference match up in Lepanto this past Friday night.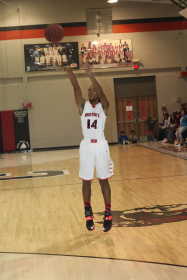 The Warriors got back to back baskets from Byron Scales and Paul Pilgrim to put EPC up 4-0 before Daniel Rucker hit back to back three-pointers for Marked Tree for a 6-4 Indians lead with 5:10 left. Byron Scales went on a personal 8-2 run to give EPC a 12-8 lead. Scales hit a three-pointer before Dee Griffin made two free throws for Marked Tree. Scales then made back to back buckets being fouled after the second score. His free throw was good with 3:46 left. Clay Malone stretched the Warriors lead to 15-8 nailing a three-pointer from the right wing. Cameron Mitchell canned a three for Marked Tree before Chris Whitfield scored inside for EPC and Pilgrim hit two free throws to make the score 19-11 Warriors. Rucker hit his third three-pointer of the quarter for Marked Tree to make it 19-14. Pilgrim got inside for a score with 15 seconds left to make it 21-14 EPC after the first quarter.
Malone hit a free throw and Aaron Scales scored on a fast break lay up to push the EPC lead to 24-14. Griffin converted a conventional three-point play then hit a jumper for Marked Tree to cut the lead to 24-19. Byron Scales made two free throws after being fouled and Malone tipped in a missed shot to make it 28-19 Warriors. Rucker drilled another three and Kedrick Tyler scored inside for Marked Tree making it 28-24 EPC. Aaron Scales made a nice tip in off a miss for EPC and Griffin scored inside for the Indians to make it 30-26 EPC with 2:29 left. Whitfield's two free throws and Byron Scales basket inside gave the the Warriors a 34-26 lead. Griffin was fouled and hit two free throws for Marked Tree and Des Barnes hit a three-pointer for EPC to send the Warriors to half with a 37-28 lead.
Marked Tree opened the third quarter with eight straight points to cut the lead to 37-36. Griffin got back to back steals for easy lay ups, Mitchell scored inside and Rucker stole the ball and went in for a lay up. Aaron Scales grabbed an offensive rebound and put it back in for EPC before Rucker scored on a fast break lay up for the Indians. Byron Scales scored inside for the Warriors and Terry Carter scored off an offensive rebound for Marked Tree to make it 41-40 with 4:00 left. Byron Scales and Rucker exchanged jumpers to make it 43-42 EPC. Whitfield hit two free throws for EPC before Marked Tree got back to back jumpers from Tyler and Mitchell to give the Indians 46-45 lead. Whitfield hit a running jumper in the lane make it 47-46 EPC at the end of three.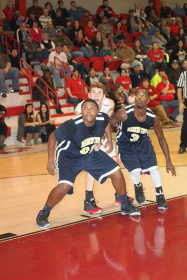 Byron Scales scored inside for EPC before Mitchell nailed a three-pointer for the Indians tie the game 49. Byron Scales and Tyler swapped baskets making it 51-51 and Mitchell nailed another three to give Marked Tree a 54-51 lead. Byron Scales got two inside scores for EPC around two free throws from Malone and two more from Pilgrim to retake the lead at 59-54 with 2:17 left. Griffin got inside for a score for the Indians to cut the lead to 59-56. The Warriors scored the next five points, all on free throws, to take a 64-56 lead with 37 seconds left. Whitfield hit one of two, Byron Scales hit two and Aaron Scales hit two. Mike Nesby scored off an offensive rebound for Marked Tree to set the final at 64-58.
Byron Scales led all scorers with 26 points as Aaron Scales had 10 points for the Warriors.
Rucker scored 21 for Marked Tree and Griffin added 19 points for the Indians.