County leaders meet for intergovernmental meeting
Tuesday, January 28, 2014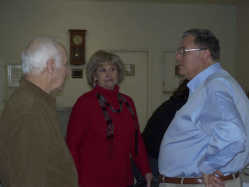 City clean-up was a common topic this Tuesday when county and city officials met in Marked Tree for their first Intergovernmental Cooperative Council meeting of the new year.
Trumann Mayor Sheila Walters said 2013 had been a good year for Trumann with the detention pond built and working near Mulberry Street. Once the fencing is put up, the project will be complete. New businesses in Trumann include Quality Farms, Community Title, Tracy's Hair Salon, and a Daylight Donuts which opens on Sunday. Mayor Walters said repaving streets and giving the city a facelift are among the many projects she plans to see completed in 2014.
Tyronza Mayor Marion Bearden said she was very pleased with the Senior Citizen Center that opened in Tyronza last year. Participation at the center remains high, and exercise classes have been started for seniors at night. As far as 2014 is concerned, Mayor Bearden anticipates a lot of clean-up around town. Tyronza is also set to welcome a new restaurant, the Tyboogie Cafe, which is supposed to open in late February or early March.
Marked Tree Mayor Mary Ann Arnold said one of the ongoing issues for her while she's in office will be condemning and removing dilapidated houses. She said so far, one house has already been condemned and removed. Mayor Arnold also hopes to put up a bulletin board to cut down on bulletins being posted and forgotten on telephone poles around town.
Lepanto Mayor Steve Jernigan said the city will finally be able to put in new water lines this year. "The big thing for Lepanto is we finally got the sales tax passed to put in new water lines," Mayor Jernigan said. "Hopefully by June 1, we can dig up the streets and put the water lines in." The city needs to replace 13,000 feet of corroding galvanized pipe, some of which is around 80 years old. Mayor Jernigan also said Lepanto will be working with Dyess to bring tour groups set to visit the Johnny Cash Boyhood Home to Lepanto as well.
County Judge Charles Nix said the Quorum Court recently passed a resolution adopting the county's economic development and strategic plan created as part of the East Arkansas Regional Planning Partnership and the reNEW East Arkansas Program.
Judge Nix, who is planning to retire this year, said one of biggest things he would like to see after he retires is for the cities and county to continue to work together and go through with the strategic plan the steering committee has put together.
Melissa Rivers, Executive Director for East Arkansas Planning and Development District, said one of the top priorities for the county on the economic and community development side is housing. "Sustainability for our region is taking care of dilapidated housing and having rentable housing available," Rivers said. Jamie Wright, who coordinates Special Projects for EAPDD, encouraged all the cities and chambers of commerce to pass resolutions adopting the county's strategic plan for economic development and said she would be visiting civic clubs to get the word out about the plan.