Living with Alzheimer's
Thursday, January 30, 2014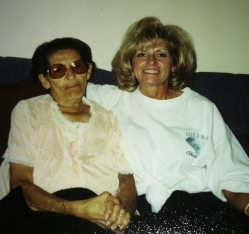 As the eighth leading cause of death, Alzheimer's has affected more lives than one person can count. Sandy Teague of Marked Tree shared her own personal story of her mother, the late Alma Bell, who lived with the disease and their journey through the experience.
Teague said it all began around 1995 after her father had passed away. Teague would go to work every day, but she would always receive a phone call from her mother that would cause her to leave. After about a year of this, she moved Bell closer to her home, so she could properly care for her.
"At first I noticed just little things like she would forget phone numbers. I didn't really think anything of it, because everyone does that. Then, it started to progressively get worse," Teague said.
At the time, specialists were not available for the Alzheimer's disease. Teague treated her mother with a Ginko supplement, as recommended by her doctor, which she thought helped in the beginning. After the disease's progression and supplements no longer worked, Teague moved in with her mother.
"We had a sitter during the day while I was at work, but as soon as I got off work, I was with her. I had two kids in school and a husband, but they were so supportive, and I was able to be with her," Teague said.
She spent four years coming home to her mother and caring for her. Bell would have good days, where she would reminisce with Teague about her childhood. On bad days, Teague said she would comfort her mother in any way she could.
"If it hadn't been for the Lord and my relationship with him, I don't think I could have made it. It was so hard to watch her go through that," Teague said. "It's like you regress back to a child."
She added that the experienced shaped who she is today in many ways. Teague owns her own business-Caring Hearts Home Care Providers. Through her business, she provides non-medical home care, counseling and target case management. She said she has a few patients with Alzheimer's, whom she holds dear to her heart.
"We give really great care to all of our patients, but I have a heart for the ones with Alzheimer's and their loved ones," she said. "I have been through it."
Through her journey with her mother, Teague learned about the importance of patience. She said she would live in her mother's world, because she never wanted to upset her.
Teague said she gave Bell anything and everything she wanted. Every Saturday, they would go to the beauty shop in Marked Tree to get her hair fixed. If her mother wanted it, she would get it, Teague said.
"With every other disease, there's some time of relief. Alzheimer's attacks your brain, and it's just awful. They can't make your brain work or make you understand what's going on," Teague said.
"I don't regret a single day I spent with my mother. That's what you have to do when you love someone who's going through (Alzheimer's). Spend as much time as you can with family and put life on hold, especially when you know the outcome isn't going to be pleasant."