Duran sworn in as Trumann's first female officer
Saturday, February 1, 2014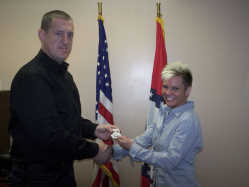 Trumann's first female police officer was sworn in last week. Born in Hawaii, Melissa Duran has worked in law enforcement in Arkansas, Alabama, and Georgia. She got her start with the police in 1995 in Blytheville and said she is excited to be back in Arkansas as Trumann's first female officer.
"So far I've been welcomed with open arms," Duran said. "We'll see what happens."
Trumann Police Chief Chad Henson said he first met Duran when he joined the Blytheville Police Department in 1996. "It was an easy decision for me," Chief Henson said. "I know she's worked rough areas. She worked a gang unit in Georgia. One week of that is worth more experience than a year somewhere else. To get somebody of that caliber, and someone who's from Arkansas, it's a win/win for te city of Trumann."
Duran said the best thing for her about working law enforcement is "there's no dread here. You wake up every morning and realize you're going to do something atypical." She said the worst part of the work is the time it takes away from family. "But it's a necessary evil," she said.
With Duran being the TPD's first female officer, Chief Henson said he hopes she helps make the police more approachable. "We want our officers to be accessible to any citizen," Chief Henson said. "Maybe her being female will relieve the fear of approaching an officer. That perception for us is good, and civilians being able to talk to her is a good thing."
Duran has worked assignments ranging from patrol to training division to gang units. She was sworn in on Wednesday, Jan. 22, by Judge Ron Hunter.