Lady Greyhounds run by Marked Tree
Monday, February 3, 2014
Lexi Perry did all she could to keep the Lady Indians close in the opening quarter. Perry scored all 10 first quarter points for Marked Tree only to see Marmaduke end the quarter on a 9-0 run to lead 21-10 after the first quarter.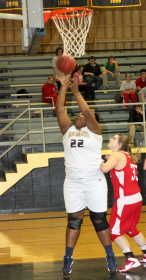 Back to back buckets from Perry after a Lady Greyhound score made it 4-2 Marked Tree. Marmaduke reeled off the next eight points to go up 10-4. Perry scored inside and then hit two free throws to make it 10-8 Marmaduke with 3:25 left. Perry scored again after a Lady Greyhound score to make it 12-10 only to see Marmaduke score the last nine points of the quarter to lead 21-10.
Marmaduke opened the second quarter with five points to go up 26-10. Lexi Perry scored back to back buckets around a Marmaduke score to make it 28-14 Lady 'Hounds. Back to back three-pointers extended Marmaduke's lead to 34-14 with 3:50 left. Jay Perry scored on a lay up for Marked Tree before Marmaduke canned another three to make it 37-16 Lady Greyhounds at half time.
Marmaduke scored the first points of the third quarter to push their lead to 41-16. Dez Reel and Jay Perry got scores around a Marmaduke three making the score 44-20. Lexi Perry hit one of two free throws then followed with a basket inside before Jay Perry hit two free throws to cut the lead to 46-25. Jay Perry's coast to coast lay up make it 50-27 with 34 seconds left in the quarter. Tullia Tull's free throw with nine seconds left made it 55-28 headed to the last quarter.
Tull scored inside before hitting a free throw for Marked Tree to make the score 55-31 Marmaduke. Jay Perry scored a conventional three-pointer and Lexi Perry hit two free throws to make it 60-36. Marmaduke scored five straight before the Perry duo score back to back buckets making it 65-40 with 1:36 left. Lexi Perry scored a basket down low to make it 67-42. Marmaduke hit two free throws before the Lady Indians scored the last seven points to set the final score. Jay Perry hit back to back three-pointers and Lexi Perry hit a free throw.
Lexi Perry scored 24 points and Jay Perry added 19 points for Marked Tree.