Marked Tree downs M'Duke in conference battle
Monday, February 3, 2014
Marked Tree and Marmaduke played a pretty even ball game the first four minutes of the game. The Indians closed the quarter with an 11-2 run and never looked back on their way to a 62-41 in 2A-3 conference basketball action this past Friday night in Marked Tree.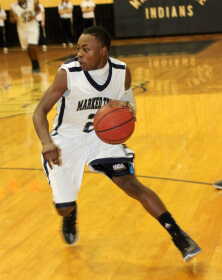 Daniel Rucker scored a fast break lay up off a steal by Dee Griffin and then drilled a three-pointer before Griffin went coast to coast for a lay up to jump out to a 7-0 lead. Marmaduke answered the next seven points to tie the game. The teams traded basket with Terry Carter scoring inside for Marked Tree to make it 9-9. Rucker canned another three-ball, Griffin hit a free throw and Rucker put an offensive rebound back in putting the Indians up 15-9. A coast to coast lay up and another Rucker three-pointer made it 20-11 after the first quarter.
The Indians opened the second quarter with an 8-2 run to go up 28-13. Kedrick Tyler hit a jumper, Cameron Mitchell scored inside, Carter scored off an offensive rebound and Griffin scored a lay up off a fast break lay up during the run. The teams decided to trade points over the next few possessions with Keland Perry hitting three of four free throws for Marked Tree to make it 31-21 Indians with 1:10 left. Griffin hit a jumper in the lane with just under a minute left and the Greyhounds got a basket with eight seconds left to make it 33-23 Marked Tree at the half.
Tyler scored inside for the Indians to open the third quarter and make it 35-23 Marked Tree. Marmaduke made a three and scored off a fast break lay up to cut the lead to 35-28. Rucker scored inside for Marked Tree and the Greyhounds converted a three the old way to make it 37-31 with 5:14 to play. The Indians scored the next 13 points to go up 50-31. Terik Young made two free throws, Perry and Tyler both scored baskets, Rucker scored back to back baskets and Carter finished the run with a basket inside to set the score after three quarters of play.
Mike Nesby scored inside and Griffin canned a three-pointer to make it 55-31. Marmaduke scored the next five before Marked Tree got baskets from Griffin and Young and a three-ball from Rucker to increase their lead to 62-36 with 1:45 left. Marmaduke scored the last five points of the game to set the final score.
Rucker led the Indians with 23 points and Griffin added 14 points.