Lady Warriors fall to Maynard
Monday, February 3, 2014
EPC played evenly the first quarter against the Lady Tigers. Maynard outscored the Lady Warriors 21-5 in the second quarter before going on to a 64-55 win in girls' high school basketball this past Monday night in Lepanto.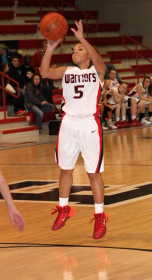 Maynard jumped out to a 4-0 lead before EPC got a three-pointer from Alyson Phillips and an inside basket from Christina Hinton to make it 5-4 Lady Warriors. Maynard retook the lead at 6-5 only to see Phillips tie it back up at six hitting one of two free throws. Maynard took the lead and EPC got it right back as Phillips hit another three-pointer to make it 9-8 EPC. Maynard got a free throw and basket to go up 11-9 with 54 seconds left in the opening quarter. Phillips tied it for EPC with a jumper in the lane before Maynard got a free throw to fall to lead 12-11 after one.
Maynard extended the lead to 16-11 with back to back scores to start the second quarter. Synteria Ward got inside for an EPC score to make it 16-13. The teams exchanged scores with Melissa Baldwin scoring off an offensive rebound for the Lady Warriors to make it 18-15. Maynard reeled off the next 10 points to go up 28-15 with just under two minutes until halftime. Baldwin was fouled and hit one of two free throws for EPC to make it 30-16. Maynard added a three-pointer to make it 33-16 Lady Tigers at the half.
Hinton opened the third quarter with a basket for EPC to make it 33-18 Maynard. Maynard answered with a score before the Lady Warriors got a free throw from Ward and another basket from Hinton to make it 35-21 with 6:25 left. Baldwin and Ward hit three-pointers on back to back EPC possessions to make the score 38-27 Maynard. The teams traded baskets with Baldwin and Ward hitting jumpers for EPC to make it 42-31 before the Lady Tigers scored the next six points to go up 48-31. Baldwin and Ward hit back to back three-pointers and Ward added a jumper to cut the Maynard lead to 48-39 with eight seconds left in the third. Maynard got a basket at the buzzer to carry a 50-39 lead into the final quarter.
Maynard scored the first six points of the fourth quarter to increase their lead to 56-39. Madison Nowlin and Hinton scored around two Maynard free throws making it 58-43 with 4:42 left. Phillips got a steal and lay up for EPC only to see back to back baskets from the Lady Tigers to make it 62-45. Maynard got a lay up making it 64-45 before EPC reeled off the last 10 points. Becca Bishop and Nowlin hit back to back three-pointers, Ward hit two free throws and Nowlin got a steal and a lay up to set the final score.
Bishop led EPC in scoring with 12 points while Phillips and Baldwin both finished with 11 points.