Warriors cruise past Maynard
Monday, February 3, 2014
After a run and gun scoring affair produced 52 combined points in the opening quarter, EPC's defense turned it up in the second quarter holding the Tigers to three points and taking control of game they would go on to win 83-56 in Lepanto this past Monday night.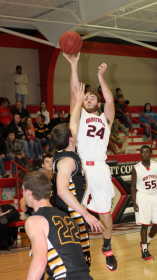 Maynard got on the board first before Byron Scales scored inside, Aaron Scales hit one of two free throws and Paul Pilgrim hit a base line jumper to give the Warriors an early 5-2 lead. Maynard tied the game with a three only to see Clay Malone answer with a three of his own and Byron Scales getting inside for another basket to put EPC up 10-5. Aaron Scales made it 13-7 Warriors with a three-pointer from the left wing. Maynard cut it to 13-10 before Byron Scales' bucket pushed the Warriors lead back to 15-10. Pilgrim hit a jumper for EPC before nailing a three-pointer to make it 20-14 EPC. Byron Scaled extended the EPC lead to 22-14 with a score at the 2:54 mark. Maynard cut it to three before Pilgrim canned another three-pointer to make it 25-19. Aaron Scales hit a three making it 28-21 before Maynard got a three right before the buzzer to make it 28-24 EPC after one.
Maynard opened the second quarter with a three-pointer, their only points of the quarter, making it 28-27 EPC and this was the closest they would get the rest of the night. The Warriors scored the next 14 points to take a 42-27 halftime lead. Pilgrim got inside for a score, Des Barnes hit a jumper in the lane and Pilgrim added a base line jumper to make it 34-27 with 5:19 left. Back to back three-balls from Malone and T.J. Young made it 40-27 EPC. Pilgrim hit another base line jumper with 52 seconds left making it 42-27.
Byron Scales stretched the EPC lead to 46-27 with back to back buckets to open the third quarter. Malone made two free shots before a Maynard three-pointer to make it 48-32. EPC scored the next six points with Pilgrim making two free throws, Byron Scales sinking a jumper and Malone adding two more free throws to make it 54-32 Warriors. Malone drilled a three from right wing and Pilgrim added two free shot to push the EPC lead to 59-34 with 3:40 left. Malone was good on two free throws and Barnes scored off an offensive rebound before Maynard hit a three-ball to make the score 63-40 after three.
Back to back buckets from Barnes and T.J. Young made it 67-43 EPC early in the fourth quarter. Barnes hit a jumper and T.J. Young nailed a three-pointer around a Maynard conventional three-point play to make the score 72-47 with 3:48 left to play. Matthew Ferguson scored inside and Montrell Jame hit a three-pointer for EPC making it 77-50 Warriors. Ferguson was fouled while making a jumper and his free throw found it's mark to make the score 80-51 with 34 seconds left. Chris Thompson's three-pointer for EPC made it 83-53 before Maynard hit a three late to set our final score.
Pilgrim led three Warriors in double figures with 20 points. Malone added 15 points and Byron Scales finished with 14 points.