Robert Henley
Wednesday, February 5, 2014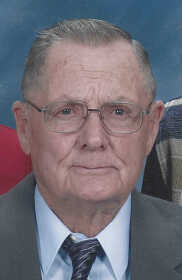 TRUMANN - Mr. Robert "Howard" Henley, 90, of Trumann died Jan. 22, 2014 at Hometown Nursing Center in Trumann. He was born in Trumann and had lived his lifetime in Trumann. Mr. Henley was a retired farmer and was a member of Maple Grove Baptist Church in Trumann. He was preceded in death by one daughter-in-law, Ann Henley; one son-in-law, Jerry Neal; and his parents, Charley Robert and Melva Mills Henley.
He is survived by his wife of 65 years, Carnell Collier Henley of the home; two daughters, Sandra Kaye Neal of North Little Rock and Doris Henley of Trumann; one son, Gaylon Henley of Trumann; four grandchildren, Kim Neal Williams, Charlie Neal, Camille Henley Turner and Grant Henley; eight great-grandchildren; and two great-great-grandchildren.
Funeral services were Jan. 25 at Maple Grove Baptist Church with Rev. Ronnie Dye officiating. Burial followed in Jonesboro Memorial Park Cemetery in Jonesboro under the direction of Thompson Funeral Home of Trumann.
Pallbearers were Derek Walton, Darin Walton, Dale Whitlatch, Danny Pippinger, Jimmy Stevens and Larry Fowler. Honorary pallbearers were Harold Pankey, Dale McDaniel, Johnny Whitlatch, Bob White, Jimmy Kincaid, Herschel Wyatt, Bobby Walton, Floyd Sadler, Dewayne Horne, Marvin Massey, Harold Box and Tommy Wilson.
An online guest book can be signed at www.thompsonfuneralhome.net.