Lady 'Cats tumble
Thursday, February 6, 2014
Cave City hit four straight three-pointers to open the second quarter opening a 10 point lead that the Lady Wildcats could not recover from as Cave City posted a 46-34 4A-3 conference win this past Thursday in Trumann.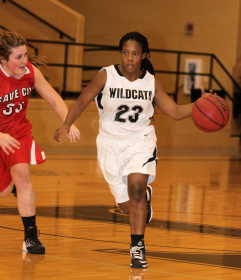 Cave City opened the game with a basket to take an early 2-0 lead before the Lady Wildcats answered with a basket by Kali Conaway off an offensive rebound and three-pointer from Taelor Gartman to put Trumann up 5-2. Cave City cut it to one and Gartman made it 7-4 Trumann with a lay up with 2:25 left. Cave City tie the game at 7 with a three-ball to set our first quarter score.
Cave City opened the second quarter with three straight three-pointers to go up 16-7. Gartman got a lay up to make it 16-9 before Cave City drained another three to go up 19-9 with 3:15 left before halftime. Cave City ran off the next seven points to go up 23-9. Gartman and Deserae Harris scored back to back for the Lady Wildcats to send the teams to the half with Cave City up 23-13.
The third quarter was a tale of two runs from the teams. Cave City opened the quarter with a 10-2 run to push their lead to 33-15 with 4:40 left. Gartman hit two free throws for Trumann's points in the run. The Lady Wildcats responded with an 8-0 run to end the quarter cutting lead back to 10 at 33-23. Megan McGowan hit a running jumper, Harris netted a base line jumper, Kelcie Roland scored off an offensive rebound and then added two free throws for Trumann.
Cave City started the final quarter with a three-pointer and Hannah Wood answered with a three-pointer for Trumann to make it 36-26. Cave City went up 42-26 as they scored the next six points before Gartman hit a three-ball for the Lady Wildcats to make it 42-29. Gartman was fouled attempting a three-pointer and made one of three free throws to make it 42-30 Cave City with 3:22 left. Cave City scored inside and Wood went coast to coast for a lay up for Trumann to make it 44-32. Two Cave City free throws and a basket by McGowan in the last minute of play set the final score at 46-34 Cave City.
Gartman led Trumann in scoring with 15 points.