Trumann comes up short against Cavemen
Thursday, February 6, 2014
Cave City got out to a early lead and controlled the first half. The second half was back and forth as the Cavemen held on for a 57-53 conference win this past Friday in Trumann.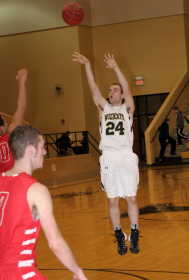 Cave City jumped out to a 7-0 lead before A.J. Winningham canned a three-pointer for the Wildcats to make it 7-3 Cavemen. The team traded scores the rest of the quarter. Tre Simmons and Enrico Cristalli hit running jumpers for Trumann to make it 12-7 with 2:34 left. Simmons got a finger roll to fall and Winningham converted a conventional three-pointer to make the score 17-12 Cave City. Winningham hit a jumper before Cave City hit a three with one second left making the score 22-14 after one.
Winningham hit a jumper to open the second quarter and Dalton Carter sailed in for a lay off to cut the lead to 22-18. Westen Gilliam scored inside after a Cave City basket and Winningham drilled a three from the left corner after two Cavemen free throws to make the score 26-23 Cave City. Winningham's jumper and Taylor Wilson's three-pointer made it 28-27 Cavemen with 2:14 left before half. Back to back scores by Cave City made it 32-27 before Carter got inside for a score to set the halftime score at 32-29 Cave City.
Gilliam made one of two free throws, Simmons drained a three-pointer and Carter hit a running jumper in the lane as Trumann scored the first six points of the third quarter to take their first lead of the game at 35-32. Cave City retook the lead at 36-35 with back to back scores only to see Gilliam score inside to make it 37-36 Wildcats. Cave City got the lead back at 38-37 as Gilliam again got inside for a Trumann score to give the Wildcats a 39-38 lead. Truman's bench was whistled for a technical foul and Cave City hit both free throws to take a 40-39 lead. Winningham hit one of two free throws to tie game at 40. Cave City hit back to back shots to go up 44-40 before Cristalli and Gilliam hit back to back shots for Trumann to tie the game up at 44-44. The Cavemen got tip in at the buzzer to lead 46-44 going to the final quarter.
The fourth quarter was much like the third, lead changes and ties down to the last two minutes of play. Wilson gave Trumann a 47-46 lead with a three-pointer to open the fourth quarter. Cave City took the lead with a basket and Winningham made it 49-48 Wildcats with 5:35 left. Cave City hit two free throws to take back the lead before Gilliam was fouled. Gilliam took a hard fall on the foul banging his elbow and Murphy Taber came in to shoot the free throws. Taber was good on both free shots to make it 51-50 Trumann. The Cavemen took a 52-51 lead before the Wildcats tied it at 52 with Simmons hitting one of two free throws with 1:52 left. Cave City got a basket and hit one of two free throws to take a 55-52 lead with 28 seconds left. Winningham made one of two free throws to make it 55-53 Cave City with 22 seconds left. Cave City hit two more free throws to set the final at 57-53.
Winningham led the Wildcats in scoring with 16 points on the night.