City mourns fire chief
Friday, February 7, 2014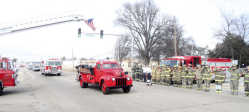 The city of Trumann mourned as Fire Chief Rick Winkles was laid to rest Saturday, Feb. 1. Community members and firefighters lined Highway 463 for the funeral procession. Fire trucks and law enforcement from all over the state followed an antique fire truck carrying the late chief's casket by the firehouse one last time on its way to Marked Tree Cemetery.
Winkles, 53, was born on Feb. 5, 1960, in Jonesboro and lived his lifetime in Trumann. He died on Tuesday, Jan. 28, at St. Bernards in Jonesboro after having a heart attack while working a fire.
Chief Winkles had been with the Trumann Fire Department since 1986 when he joined as a volunteer. According to Interim Chief Earnie Link, Winkles became a full-time fire fighter in 1988. Between 1988 and 2003, Winkles was promoted from fire fighter to driver to lieutenant to captain to assistant chief. In 2003 he became fire chief. Winkles was also a reserve deputy for the Poinsett County Sheriff's Department and head of the Poinsett County Search and Rescue Team.
"I just remember he was a good person," Link said. "He always had an open door policy. He was instrumental in getting us equipment and training."
Link said the station got two new fire trucks in 2005 with money from the one cent sales tax and that Winkles got the station a new brush truck in 2009.
Link, who worked with Winkles for 22 years, said the Trumann Fire Department is a close family, "and he was like our daddy."
After Winkles died, several fire departments from all over the region came to Trumann to show their support and help out at the department. "We've had so much help. We didn't have to work a shift till Monday because of the help we've had," Link said. One day, he added, there were 22 firefighters on duty. Normally, the Trumann Fire Department averages three during the day and two at night.
Fire Deparments that helped out during this time included Memphis, Jonesboro, Forrest City, Caldwell, Bay, Bono, Brookland, Weiner, Harrisburg, Marked Tree, Lepanto and Northern Greene County Fire Department. "Northeast Arkansas went above and beyond. They just came in and took over," Link said. Link also wanted to thank Trumann EMS for helping arrange the work with the other departments.
Link wanted to give a big thank you to the people of Trumann for providing support and food. He said the department never wanted for food thanks to the community's generosity. "I just want people to know we're so so thankful to so many people for stepping up," Link said.
Link especially wanted to thank Gerald Burns of Palestine, Ark., who donated the antique truck used to carry the casket. Link said the department has received sympathy cards from all over Arkansas and across the country from Florida to Maryland, Washington, D.C., and Wisconsin. He even received a call from Governor Mike Beebe, who told him all flags across the state would be flown at half staff the day of the funeral in Winkles' honor.
Chief Winkles was also a veteran of the Army National Guard, a Master Mason and was a member of McCormick Baptist Church. He was preceded in death by one sister, Patricia A. Whitsett and his grandparents.
Survivors include his wife of 32 years, Bonnie Holt Winkles of the home, two sons, Ricky (Misty Barnes) Winkles, Jr., and Jeremy (Lauren) Winkles of Trumann; four grandchildren, Dixie Winkles, Reed Morgan, Shawn Winkles and Kain Winkles; parents, Carl and Shirley Winkles of Trumann; two sisters, Carolyn (Doug) Qualls of Trumann and Sherri (Randy) Tribble of Jonesboro, one brother, Randy (Lori) Winkles of Tucson, AZ and his father and mother in law, Frank "Bud" and Joyce Hamby of Trumann.
The funeral service was held Saturday at First Baptist Church in Trumann with Rev. Jim Frazier officiating with burial at Marked Tree Cemetery.
Pall Bearers were Jimmy New, Richard Mabe, Revis Kemper, Larry Mills, Kevin Molder, Bo Hickey, Ralph Guthrie and George Duboise. Honorary pallbearers will be Al "Booboo" Lally, Trumann Fire Department and Poinsett County Sherriff Department.
Lasting memorials can be made to St. Jude Children's Research Hospital, P.O. Box 1000, Dept. 142, Memphis, TN 38148-0142, Arkansas Children's Hospital Burn Center, 1 Children's Way, Little Rock, Ark., 72202-3591 and Make A Wish Foundation.