Trumann School District presented with award from Apple
Saturday, February 8, 2014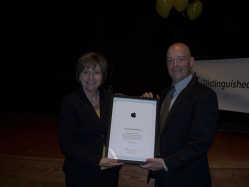 Two years into implementing their 1:1 Technology Initiative, Trumann District has been presented with an award recognizing them as an Apple Distinguished Program. The award was presented to the district during an assembly on Jan. 30.
Assistant Superintendent David Rutledge told students and parents when he and Superintendent Myra Graham came to Trumann three years ago, they had been looking for ways to move the district the forward.
Trumann is one of a few Arkansas school districts with a 1:1 technology initiative implemented in K-12. According to Rutledge, almost 1,800 devices have been issued to students, iPads for K-2 and MacBooks for grades 3-12. "What we've asked our teachers to do is not only use technology in the classroom but also fundamentally change the way they teach," Rutledge said.
Trumann School District is one of two schools in the state to be recognized as an Apple Distinguished Program for the 2013-2014 school year and the 2014-2015 school year. Less than 220 schools are Apple Distinguished throughout the nation.
When a school is nominated, they must create an iBook showing what they do and how they use technology. "I talked to the leadership at the high school, and we decided what better way to show how we use technology than to hand the project to our students?" Rutledge said.
A group of seven students worked on the iBook: Dustin Rhoads, Allison Victory, Jordan Pierce, Jonathan Sumner, Colton Mann, Blaire Jones, and Taylor Wilson.
Dr. Katherine Hughes, K-12 Development Executive with Apple, said the students exceeded expectations with the iBook they presented. "Out of all the Apple Distinguished schools we've worked with, we have never had students create the iBook," she said.
Dr. Hughes said four things Apple looks for in the iBook when judging schools are visionary leadership, innovative learning and teaching, ongoing professional development, and a flexible learning environment.
Superintedent Myra Graham told students, "I'm just excited we were able to provide you with the tools to do this."