Lions Club celebrates 84 years
Sunday, February 9, 2014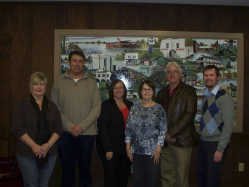 The Trumann Lions Club have been meeting in the Community House for lunch every week since Jan. 25, 1930. Last week, the club marked its 84th year by inducting seven new members.
Debbie Robinson, Paul McAnally, Michelle Wood, Buddy Lovell, John Maley, and Marsha Phillips all joined the club. In addition, club president Ronnie Harrison presented Betty Payne with a token of appreciation on behalf of the club. "She's been a big part of Lions Club and the community," Harrison said.
Harrison also noted it was a sad time in Trumann with the passing of Fire Chief Rick Winkles. "Today's supposed to be a happy day--we're celebrating our 84th birthday--but sometimes it doesn't turn out that way," Harrison said. The Lions took up a collection for Winkles' family and raised over $200.
Guest speaker was Brad Baker, CEO of Mid-South Lions Sight and Hearing Service, a nonprofit group that provides medical services for the sight and hearing impaired. Baker said Lions clubs provide 75% of the funding and recommend applicants for Mid-South Lions to help.
"I can't tell you the joy I see in the faces of the people we've helped with the gift of sight or hearing," Baker said. "The people you refer will tell us the difference the gift of sight has made in their lives. There's no better way you can spend your time and your money than helping other people."
At the end of Baker's talk, the Trumann Lions Club presented him with a check of $1,500 to go toward the Mid-South Lions Sight and Hearing Service.