Lady Indians gain conference with in lopsided victory over McCrory
Thursday, February 13, 2014
Marked Tree jumped out to an early 5-0 lead and never looked back as they went on to beat McCrory 73-42 in 2A-3 conference action this past last Wednesday night in Marked Tree.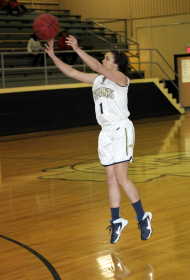 Jay Perry gave the Lady Indians a 1-0 lead before Marked Tree was charged a technical foul for a jersey infraction. McCrory missed the the technical free. Kanitria Island scored on a lay up before Dez Reel got a steal and went in for a lay up to give Marked Tree a 5-0 lead. McCrory scored back to back baskets to make it 5-4. Lexi Perry scored inside and McCrory got a jumper to fall making it 7-6. Jay Perry went on a personal 7-0 run with a basket inside, a three-pointer from the right wing and a lay up to make the score 14-6 Marked Tree. Tullia Tull hit one of two free throws after a Lady Jaguars score and Jay Perry converted a conventional three-point play with eight seconds left in the opening period to make it 18-10.
McCrory cut the lead to 18-13 with a three-ball to open the second quarter. Back to back buckets from Diana Harris and Tull pushed the Lady Indians lead to 22-13. Lexi Perry scored down low before Jay Perry canned another three-pointer and then scored inside to make it 29-15 Lady Indians. Lexi Perry scored the next six points, all down low, for Marked Tree around a couple scores from McCrory to make the score 35-19 with 1:40 before halftime. Tull and Jay Perry each scored a basket after a Lady Jaguar score to make it 39-23 Lady Indians at halftime.
McCrory opened the third quarter by hitting two free throws before the Lady Indians went on a 12-0 run to make it 51-25. Tull had a score, Jay Perry scored six points as Reel and Lexi Perry each had a basket during the run. A Lady Jaguar three-pointer stopped the run before Jay Perry and Tull scored a basket each inside to push the lead to 55-28. The teams decided to trade points the rest of the period as Tull scored inside, Jay Perry hit one of two free throws and Reel hit a jumper, all following a McCrory score, to make it 60-34 after three.
Kambria Marshall and Lexi Perry scored back to back baskets to open the final quarter making it 64-34 and invoking the mercy rule. McCrory hit two free throws and Lexi Perry followed by hitting one of two free throws and then grabbing her own missed shot and putting it in for a score to make it 67-36 Marked Tree. Lexi Perry scored inside between McCrory scores to make it 69-42 with 1:30 left. Island hit a base line jumper and then followed with a short jumper for the Lady Indians to set the final score at 73-42.
Jay Perry led the Lady Indians in scoring with 27 points. Lexi Perry and Tull finished with 19 and 11 respectively for Marked Tree.