Indians survive second half charge to knock off Jaguars
Thursday, February 13, 2014
Marked Tree jumped out early then survived a furious McCrory come back in the second half to post a 56-44 2A-3 conference win over the Jaguars this past Thursday night in Marked Tree.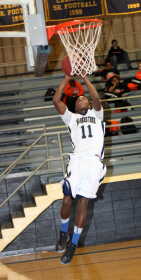 Marked Tree got out to a 4-0 lead on back to back buckets from Daniel Rucker and Dee Griffin. Griffin's score came off a Rucker steal. McCrory got on the board before Mike Nesby scored a pair of baskets inside around a Kedrick Tyler running jumper in the lane to make it 11-2 Indians with 3:34 left. The Jaguars hit a couple three-balls around a Rucker coast to coast lay up making it 13-8 Marked Tree. Rucker netted a three-pointer from the left wing before Nesby scored off an offensive rebound and then added a jumper in the lane to give the Indian a 20-8 lead after one quarter of play.
The second quarter saw both offenses become almost non-extient as they combined for nine points in the quarter. McCrory got free for a lay up with 2:51 left making it 20-10 Indians. Rucker got one of two free throws to fall before McCrory hit a jumper to make it 21-12. Tyler hit a base line jumper with 40 seconds left before halftime and McCrory hit a shot right before the buzzer to make the score 23-14 Marked Tree at the half.
The Jaguars converted a conventional three-point play to open the third quarter only to see Tyler and Rucker hit back to back shots pushing the Marked Tree lead to 27-17. McCrory scored the next ten points, hitting three three-pointers, to tied the game at 27 with 2:42 left in the third. Terry Carter got back to back scores for the Indians and Cameron Mitchell hit two free throws to make it 33-27 Marked Tree. The Jaguars got a jumper to fall and then nailed a three-ball to make the score 33-32 Indians headed to the final quarter.
Carter scored back to back buckets for the Indians to open the fourth quarter to push the lea to 37-32. McCrory answered with two straight scores only to see Mitchell make back to back coast to coast lay ups to make it 41-36 Marked Tree. Carter scored an old fashioned three-point play between McCrory scores to make it 44-40 with 4:10 left. Marked Tree reeled off the next eight points to go up 52-40. Carter hit a jumper, Mitchell scored inside, Griffin hit two free throws and Carter scored inside to finish the run. McCrory hit a jumper before Rucker and Tyrek hit four straight free throws to make it 56-42 with 30 seconds left. McCrory added another scored to set our final at 56-44 Marked Tree.
Carter led the Indians in scoring with 15 points. Rucker chipped in 11 points