Warriors notch conference win with big final quarter
Thursday, February 13, 2014
In a game that was close all night, EPC's defense held Augusta scoreless in the final quarter as the Warriors went on to claim a 45-36 win in 2A-3 basketball action this past Friday night in Lepanto.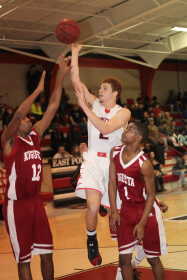 Trayvon Montgomery opened the scoring with a three-pointer for EPC for a 3-0 lead. Augusta tied it with a three-pointer and then scored inside to go up 5-3. Chris Whitfield hit a jumper in the lane and was fouled. Whitfield's free shot was good making it 6-5 Warriors. Augusta scored inside and then netted a three to go up 10-6 with 2:05 left. Paul Pilgrim cut it 10-8 with a basket inside before Clay Malone hit one to two free throws to make it 10-9 Augusta. Byron Scales gave EPC an 11-10 lead with 50 seconds left. T.J. Young hit one of two free throws to make it 12-10 Warriors after one quarter.
The second quarter was much like the first with no team getting more that a four point lead. Whitfield went the length of the floor for a lay up after Augusta hit one of two free throws to open the quarter making it 14-11 EPC. The Jaguars scored the next points to go up 18-14 with 3:10 left. Pilgrim got inside for a score and Whitfield hit two free throws to make it 18 all. Augusta came back with back to back scores to make it 22-18 Jaguars. Pilgrim grabbed an offensive rebound and put it back in make our score at halftime 22-20 Augusta.
Augusta pushed the lead 25-20 early in the third quarter before Pilgrim scored a basket to make it 25-22 Jaguars. Augusta hit two free throws before Byron Scales scored inside, Malone hit two free throws and Pilgrim scored inside to make it 28-27 EPC. Augusta went up 29-28 with a basket only to see Aaron Scales score on a lay up and Malone hit two free throws to put the Warriors up 32-29 with 2:06 left. Augusta ended the quarter on a 7-2 run to make it 36-34 McCrory going into the fourth quarter. Malone had EPC's score during the run.
Byron Scales got the offensive rebound off his own miss and scored and Malone hit two more free throws to make it 38-36 EPC early in the fourth quarter. Byron Scales hit one of two free throws and Malone made the front end of a one and one to push the Warriors lead to 40-36 with 25 seconds left in the game. Malone added two more free throws and Whitfield made a three-pointer at the buzzer to set the final score.
Malone led three EPC players in double figure with 12 points. Pilgrim and Whitfield each had 10 points for the Warriors.